Successful juvenile offenders programme to be implemented throughout country
By Ernest Petrosyan
Thursday, January 12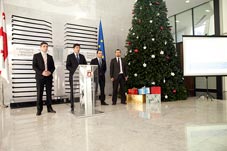 The Georgian Ministry of Justice in cooperation with the Ministry of Corrections and Legal Assistance will implement a "Minor Diversion and Mediation" programme throughout the country after judging it to be very successful in the juvenile judiciary system at the joint summary briefing of the Ministry of Justice, Prosecutor's office, and Ministry of Corrections and Legal Assistance.
First Deputy Prosecutor General David Sakvarelidze announced the Minor diversion and Mediation project to be the most successful project of the past year.
"The project enabled us to relieve 84 adolescents from criminal responsibility. It is important that there has been only case of repeated crime among them so far. Such a positive outcome of the project naturally made us think of extending the project area," noted Sakvarelidze.
The project envisages an alternative for criminal responsibility, according to which in the case of valid presumption that an adolescent has committed a less grave crime for the first time, it is up to the discretion of the prosecutor to prevent such a juvenile from undergoing criminal prosecution, which means that the youngster shall avoid: pre-trial detention, emotional stress caused by the trial itself, following sanction as a convict.
Implementation of the project is obviously a big step towards getting closer to the purpose of the criminal code of Georgia, since the aim of the programme is re-socialization rather than punishment," said Lawyer Sandro Samadbegishvili.
According to him, one of the advantages of this programme is the individual approach toward such juveniles as a social worker has to formulate a bio-psycho-social portrait of the teenager and upon considering the background of the youngster a contract will be executed with signatures of the juvenile, parents, prosecutor, social worker and victim(s) of the crime, if any.
"This programme is deemed a good way to return the offending teenager to society and is a perfect opportunity for society itself to receive the improved citizen. The method of punishing youngsters for less grave crimes had been criticized for a long time as it failed to respond to the needs of the community and the goals of the country's legislation," concluded Samadbegishvili.
The pilot programme was launched in six cities, Tbilisi, Rustavi, Kutaisi, Batumi, Gori and Samtredia in 2010 and was only a trial term, the results of which encouraged the penitentiary system to introduce it throughout the whole country.