Anniversary of late cinematic genius Sergey Parajanov
By Salome Modebadze
Thursday, January 12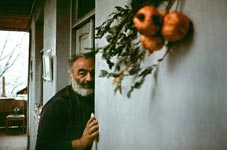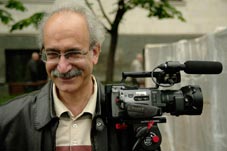 Sergey Parajanov, the late film director with a unique way of representing life and special understanding of cinematography, would have become 88 years old on January 9, 2012. His 88th anniversary was especially celebrated in Tbilisi with a film about his life made by Iranian Director Rahim Mortezavand. Having become interested in the phenomenon of Parajanov the Iranian director found it easy to work in the landscape of Tbilisi - the city where Parajanov's career had started. Tbilisi, with its special relationships among people and traditional values thus became the place where Mortezavand's film was premiered, at Rustaveli Cinema, for people who knew and appreciated Parajanov and his art.
Yuri Mechitov, a photographer who spent many years working with the Georgian-born ethnic Armenian "genius", spoke of Parajanov as "a person in love with people." Having assisted the Iranian director in making the film about Parajanov, Mechitov expressed his gratitude to the public who came to attend the premier of the film called
In the Name of the Pomegranates
, according to one of Parajanov's well-known films.
"We live in a century where the number of geniuses is decreasing - gifted people all over the world are being oppressed," Mechitov told The Messenger worrying that entertainment has become the only motivation for modern directors while Parajanov thought more about the spiritual development of people by showing them the overall beauty of life. Unfortunately Parajanov was constantly oppressed in the soviet era - with 15 unproduced screenplays and projects he was imprisoned for his free style of cinematography three times. Having been acknowledged as "the last genius of the 20th century" Parajanov explored the human soul even whilst in prison and also painted and sculptured a lot.
The "person of the world, breaking down borders" always encouraged talented young people to follow their dreams in life. He has lived on in the memories of people who knew him well and remains the subject of interest for those who have recently heard about him through his films and material written about him. Talking of the great tradition of celebrating Parjanov's birthday since his death in 1990, Mechitov hoped that the masterpieces of art made by Parajanov being kept at the Yerevan Museum (in Armenia) would someday be introduced to the Georgian public.