Accusations of Georgian involvement in Abkhazian terrorist crime
By Ernest Petrosyan
Friday, January 13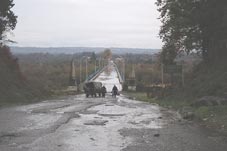 De-facto Abkhazian law enforcement agencies claim to have foiled a "large scale terrorist act" after discovering explosive devices in the Gali district of breakaway Abkhazia, reported news agency
Apsnypress
on January 11.
As the agency reports, three anti-tank TM-62 mines and one directional anti-personnel MON-50 mine were found outside the village of Gagida by law enforcement agents who were investigating the murder of local militia man Vitali Rodonaia, who was shot in the same village on January 9. Abkhaz law enforcement agencies said that they were considering Georgia's link as one of the possible versions behind the murder of Rodonaia, who was an ethnic Georgian. It is commonplace for Abkhaz law enforcement agencies to tie any so-called terrorist acts to Georgia.
About two weeks ago a high-profile double murder was committed outside the town of Gali; one of those shot on December 29 was a retired Abkhaz colonel, Valmer Butba, described by local sources as "an influential figure" in the Gali district. Butba, a former commander of Abkhaz first leader Vladislav Ardzinba's security guard, who in the past also commanded the Abkhaz anti-terrorist unit, was detained in 2009 for possession of arms; at the time opponents of then Abkhaz leader Sergey Bagapsh, claimed that Butba was arrested because of his support to then opposition presidential candidate and his relative Beslan Butba.
Such bilateral accusations between Georgia and the de-facto Abkhazian regime have been quite common over recent years. Last year Georgia's Interior Ministry (MIA) announced that a car explosion in Georgia's black sea town of Batumi in 2010 in which a MIA official was killed was carried out by perpetrators recruited for the Abkhaz-based Russian military intelligence officers by Valmer Butba.
The De-facto Abkhaz prosecutor's office announced on January 10 that a Georgian citizen from neighbouring district Zugdidi was wanted concerning Butba's murder, indeed also claiming that the suspect was acting upon Georgian special services' order.
According to officials in Tbilisi, Butba's murder was a result of the "settling of scores between local rival criminal gangs". Some analysts in Tbilisi suggested that Butba's murder could have been a result of the new Abkhaz leadership's declared policy of cracking down on criminal gangs.
Georgian experts relate the recent crimes, including the death of three occupiers in Gali, to the shoot-out of local Abkhazian gangs. The deaths of Russian occupiers in breakaway Abkhazia, according to Georgian experts, show the extremely tense relations.
According to experts, the puppet regime together with Russian occupiers is trying to completely block the administrative border, leaving only Russian-controlled checkpoints, which the recent crimes can be used as good grounds for.