Back Home: from US to Georgia
By Salome Modebadze
Friday, January 13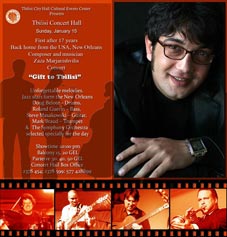 The famous Georgian composer and pianist, Zaza Marjanishvili will be performing
A Gift to Tbilisi
, a solo concert, at Tbilisi Concert Hall on January 15, 2012. He will be accompanied by leading jazz musicians from New Orleans to share American spirit with Georgian public. This concert will be his first after his 17 years of absence and is expected to be an unforgettable melody for the audience as promised by Tbilisi City Hall Cultural Events Center, which is the organizer of the event.
Having been actively engaged in musical world from his early childhood, Marjanishvili started his career touring in Europe at the age of 5 playing drums with the children's band, composed of children with special talent in music. Piano, guitar, percussion and drumming instrument all play important role in his musical world. His professional record includes composing, arrangements, productions, playing piano and keyboards at concerts, music festivals, and club venues in Tbilisi, Moscow, St. Petersburg, Vienna, New Orleans, Las Vegas, San Francisco and Los Angeles. Interest in human emotions helped him create music for films, documentaries, commercials, TV shows and theatres in Hollywood.
As a composer he has released 10 albums, which mainly include elements of jazz, film music, ethnic jazz, classical, Latin and middle eastern. Whereas as a producer he has created more than 150 albums, including various styles of music such as jazz, samba, reggae, rock, alternative, Irish, American folk, salsa, Chinese folk, meditation music and more. And now after his 17 years of active professional development he is back home with his former band members Steve Masakowski – jazz guitarist, Doug Belote – drummer, Marc Braud – Trumpeter, and Roland Guerin – bassist – the four jazz stars as he called them sharing his story to
The Messenger
.
Stressing that Tbilisi has changed a lot since his departure to America, Marjanishvili told us how lucky he was to have an opportunity of playing the piano at places (in New Orleans) where famous American musicians like Ray Charles used to play. New Orleans which is known as the homeland of jazz also respects Latin American music – thus Marjanishvili started playing with great jazzmen and received invitations to jazz festivals. He spent the following 8 years in Los Angeles writing music for cinema, theatre and commercials. "But the terrorist attack on New York changed everything in 2001," he told us worrying that the following year and a half were very stressful for everyone. Having returned to New Orleans, the terrible flooding finally "floated" him back to Tbilisi. "I thought it was a message from above as I hadn't been to Tbilisi for so many years. I want to stay in my homeland – my place is here," Marjanishvili said stressing that he would stay in the capital but keep his ties with America.
The music is ready for his solo concert planned this Sunday, which is expected to welcome everyone to share the emotions of the maestro from his nostalgia about Georgia after so many years.