Deputy Foreign Minister on released sailors' ransom
By Ernest Petrosyan
Tuesday, January 17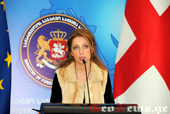 Georgian Deputy Foreign Minister Nino Kalandadze abstained from commenting on the ransom paid for Georgian sailors that resulted in their release from Somali captivity at the traditional Monday briefing, citing it as unreasonable to reveal details about the case.
"It was said that it would be difficult for the state to find resources. The family members mobilized some resources of their own, though I will refrain from specifying details. Suffice to say that family members were involved," Kalandadze said.
Kalandadze said that the Government actively cooperated with the owner of the ship, who was responsible for the incident. She said that the Government of Georgia also had links with the insurance company that insured the ship.
"When the state is unrecognized, when we have to deal with a criminal gang, the state's abilities are limited, since it is impossible to hold any official negotiations with them, but of course the state and the Government are interested in providing security for every citizen."
According to Kalandadze the Deputy Economic Minister used official and personal contacts, at the same time denying that any cooperation between the state and pirates took place. "Negotiations were under way with a lot of officials, also with anyone who had had similar experience," Kalandadze said.
At the briefing, Kalandadze also referred to the death of two Georgian citizens and a Turkish tanker as a result of an explosion. "As the situation is complicated, we will avoid making a statement until we receive all the information from Ankara. We hope that our representation there will provide us with all the information," Nino Kalandadze said.
Yet Kalandadze touched on the issue of the cooperation of the Foreign Ministry with Temur Alasania, President Saakashvili's uncle. According to her, the Georgian foreign department expressed its desire to sign an agreement with Alasania, also noting that it is not a diplomatic position, but about technical cooperation.
"The advisor does not hold a diplomatic position, but does have the role of giving consultations. Since he has a long history of cooperation in the framework of the UN we are having consultations with him," Nino Kalandadze said.
The Deputy Minister of Foreign Affairs says that the service will be free and that Temur Alasania will simply be sharing his experience with the foreign department.
Kalandadze states that a 6-month agreement was signed with Temur Alasania. This deadline expired on 31 December and the agreement will continue from January.