Republican Party investigating unfinished state apartment buildings
By Salome Modebadze
Tuesday, January 17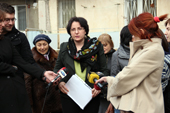 Tina Khidasheli, one of the leaders of the Republican Party, addressed the Chamber of Control of Georgia to investigate where Tbilisi City Hall spends the budget resources defined for construction activities in the capital Tbilisi. Meeting the owners of a state block of flats in one of Tbilisi's districts on Monday, Khidasheli discussed the problems these people have been facing for the past 22 years. Worried about the fate of the 72 families who haven't been able to enter their apartments yet, Chairwoman of the block of flats Irina Sopromadze asked the opposition representative to assist them in solving their problem.
According to information released by Sopromadze, around GEL 3 million was allocated for finishing the construction activities of their apartments in 2005 when Zurab Chiaberashvili was the Mayor of Tbilisi, while the process was suspended after Gigi Ugulava came to power. Interested in where their money has gone the families hoped that, as opposition MP of Tbilisi City Council, Tina Khidasheli would mediate on their behalf with the Chamber of Control to get information about the budget's expenses. "How is it that money issued for particular problems can have been spent elsewhere?" Khidasheli wondered. 18 families living in the unfinished block of flats feel unsafe; they say they can't even let their children play in the yard.
Worrying that no corporate house building programme has been included in the budget policy for 2012 the MP expressed her great hope that their struggle would be a success and that City Hall would use the 53% of undefined budget resources labelled "other expenses" to solve such people's problems. According to information released by the press service of the Republican Party, such problems are common in the capital and thousands of people haven't even been able to enter their apartments in state blocks of flats so far. As the Republicans' press service told The Messenger Khidasheli has been working on the issue for quite a long time. Calling it "a debt" that the state owes its citizens Khidasheli hoped that the Chamber of Control would get answers to the Republican's questions and people would get the financial resources necessary to finish their blocks of flats.
As Head of the Vake-Saburtalo region Davit Gabunia said, they have been doing everything possible to assist the families and promised to finish the constructions in the time defined for these activities.