UNDP and Ministry of Agriculture registering unique Georgian products
By Etuna Tsotniashvili
Tuesday, January 17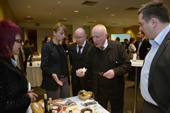 As well as the well-known types of Georgian cheese Sulguni, Imeretian, Guda, and so called factory-made cheese, Georgians will now have access to a wide range of local cheese varieties in Georgia.
Georgia is an agricultural country and it produces a number of unique products including cheese. Each region of Georgia has its own unique methods of cheese-making which are totally different from each other.
An exhibition of locally made cheese was held at Holiday Inn on January 16 where cheese producers presented unique types of cheese which are daily increasing in popularity in Georgia.
The exhibition was followed by a presentation of the results of the joint initiative of The Ministry of Agriculture of Georgia and the United Nations Development Programme (UNDP) which aims to protect the reputations of Georgian products on international markets.
With assistance from UNDP consultants, the Ministry of Agriculture developed policies and instructions for protecting geographic indications and appellations of origin of 30 Georgian goods - wines, cheese, dairy and other food products.
"Very important work has been done and now all these types of cheese will be registered so that they can't be claimed by anyone else in the world. As we know there are many cases in the world of certain types of cheese being claimed by other nations as their own, so we have done the first step towards preventing that," said the Minister of Agriculture Zaza Gorozia, adding that there are currently fourteen types of cheese registered by the Ministry.
Commenting to
The Messenger
Jamie McGoldrick, Head of UNDP in Georgia, spoke about the UNDP's role in this new project. According to him agriculture is a fundamental part of Georgia's development and UNDP always welcomes such initiatives and hopes that Georgian brandy products will influence the Georgian economy in a positive way. McGoldrick highlighted that the protection of Georgian products' labels from falsification is essential and that is why the reputation of Georgian products needs to be protected on international markets.
"Access to local and international markets for Georgian products is important for ensuring sustainable jobs and stable incomes in the sector. Agriculture products are among the leading exporting goods in Georgia. Their unique qualities and reputation need to be properly positioned and protected in accordance with international treaties and agreements. This will benefit Georgian and international customers and will protect legitimate producers," McGoldrick said. "We see that agriculture has phenomenal future potential in Georgia and it is important that we cooperate with the Ministry, once an action plan is produced and strategy devised then we will have a clear idea of where the agriculture sector is heading," he added.
Manana Trenkle lived abroad and when she returned to Georgia she made an investment and began business in cheese making. Her farm is in the Zugdidi region where they produce sixteen types of cheese. In total more than ten people are employed there. "We have not created anything new, these are old types of cheese which were forgotten and not used anymore. We renewed their production and re-introduced them to the Georgian market," she said.
Darejan Kandelaki is Deputy Director of LTD Santa which is involved in farming business in the Tsalka region. She and her colleagues began with cattle breeding and later began business in cheese-making, they are now producing different types of cheese which have already become very popular with consumers. "It all began 14 years ago. We have experienced some trying periods but everything has developed for the better over time. We now have 30 people employed by our company. We have our own cattle farm and produce four types of cheese. They have not been exported yet as demand inside the country is sufficiently high. That is why we will think about export in the future when we increase our farm," Kandelaki told
The Messenger
.
Geographic indications and appellations of origin are used on goods that have specific qualities attributable to the place of their origin. Their valuable reputation needs to be protected from dishonest commercial operators by national laws and international treaties.
False use of geographic indications by unauthorized parties is detrimental to consumers and legitimate producers. It deceives consumers into buying an imitation instead of an original product, and threatens the business of legitimate producers.
In 2010, Georgia signed several international agreements and ratified a Bilateral Agreement on Geographic Indications with the European Union. However, the protection of each appellation of origin required a thorough assessment, development of the production instructions and requirements, and registration with the relevant international organisations.
For Georgian products, the protection of geographic indications means easier access to international markets, steady growth of export, and more income and jobs in agriculture.