Parts of the country grind to halt after heavy snows
By Salome Modebadze
Wednesday, January 18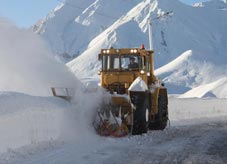 Heavy snow in Kazbegi forced around 300 motorists and their passengers to remain in their cars overnight near Dusheti, in the Mtskheta-Mtianeti region on Tuesday. According to the information released by representatives of the local municipality, the risk of avalanches hindered the attempts of special equipment to entirely clear the Gudauri-Kobi motorway meaning that people driving to Russia via Georgia, mainly Armenians, couldnít get to their destinations. Representatives of the local municipality provided everyone with food and drinks. Most of the people in the cars, buses and minibuses returned home in the morning, while others were kept waiting still further for the road to the Georgian-Russian border at Dariali Gorge to open.
As Givi Amirkhanashvili, Deputy Governor of Mtskheta-Mtianeti, told The Messenger, the women and children were examined by doctors and were given the all clear but the Armenian drivers chose not to return to Armenia or stay in nearby hotels. The Gudauri-Kobi motorway is still closed. Waiting for the snow to thaw, special brigades mobilized on the Gudauri-Kobi motorway started road cleaning activities there. As Amirkhanashvili explained, if the weather improves it will be possible to clear the road in two or three days, but if it worsens it could take over five or six days to clear instead.
There was almost a similar problem on the Stepantsminda-Larsi motorway but it was cleared of snow and traffic flow resumed. The motorway to Gudauri is also clear, so tourists and visitors are welcome to enjoy their time skiing at the Georgian winter resort. Although the road to Gudauri is being intensively cleared, officials advise the owners of smaller cars to use special chains on their tires to prevent skidding.
Heavy snow caused particular traffic problems both in the eastern and western parts of the country where the snow coverage exceeded one metre. There has also been heavy snow in Svaneti, but the situation there was better. According to Roman Mukbaniani, Head of Lentekhi Municipality, the intense snow didnít particularly affect people, and he hoped that all the roads would be cleared entirely by today.
As representatives of the Weather Forecast Bureau of the National Environment Agency forecast, temperatures will decrease ten degrees throughout the country including in the capital from today. The bad weather might even last for a couple of days in Georgia with possible rain, snow and wind in various parts of the country. As weather forecasters predict, the weather should change to frost from January 21.