Memorandum signed to improve addressing system in Georgia
By Salome Modebadze
Friday, January 20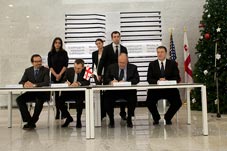 On January 18 the Ministry of Justice of Georgia, Tbilisi City Hall and US Agency for International Development office in Georgia (USAID) signed a Memorandum of Understanding to support implementation of a new project aimed at improving the voters' lists by correcting addressing in Tbilisi. As part of the project 474,000 units will be mapped and approximately 1.2 million registered individuals will be assigned to physical addresses.
By signing the memorandum Ambassador of the US to Georgia John Bass, USAID Mission Director for Georgia Stephen Haykin, Minister of Justice Zurab Adeishvili and Mayor of Tbilisi Gigi Ugulava shared the responsibilities for carrying out the project by July 1, 2012. Mayor Gigi Ugulava emphasized the importance of a "good electorate environment" for the country and took the responsibility for legalizing the addresses by the deadline.
The project is part of the US Government sponsored USD 16 million Good Governance in Georgia (G3) project to improve transparency and institutional efficiency at all levels of government, as well as improving communication channels between government institutions, civil society and citizens administered by the USAID. As the financial partner of the project, USAID defined USD 1 million for implementation of the new project. As Ambassador John Bass explained, the new project would significantly improve the lists of the electorate by providing precise addresses for each citizen and ensuring transparency of elections in the country. This is part of the activities with which the US is trying to help Georgian people create the best, most transparent and fair electorate environment for the upcoming parliamentary elections.
The Civil Registry Agency and National Agency of the Public Registry of the Ministry of Justice will ensure the efficiency of the project. After the National Agency of the Public Registry gathers the correct addresses around the capital in a database, the Civil Registry Agency will assign registered physical entities to particular addresses. The whole process is to be monitored by the special coordination council which will gather once a month and evaluate the process.
The process will be carried out together with the door-to-door project of the commission working on the electorate lists. Mamuka Katsitadze, Chairman of the Commission from New Rights, welcomed the addressing project hoping that the two bodies working on a similar issue won't complicate the situation. But according to Kakha Kakhishvili from NGO Research Centre for Elections and Political Technologies, the problem of correct addressing doesn't only refer to the citizens of Tbilisi but is particularly significant in the regions. Kakhishvili is concerned that there are still villages where streets have no names thus he encouraged the Government to think of solving this problem as well.