Infrastructure investment to improve tourism in Kakheti
By Salome Modebadze
Monday, January 23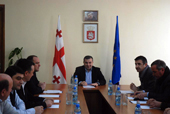 Visiting the easterly region on Saturday, Parliamentary Chairman Davit Bakradze announced that approximately 100 million GEL will be invested in infrastructure and rehabilitation activities in Kakheti in 2012. Discussing the project with Governor of Kakheti Giorgi Gviniashvili and heads of regional municipalities, Bakradze analyzed their annual reports for 2011 as well as projects planned for 2012. The investment is ensured by the World Bank and the Georgian state budget, with 50 million GEL earmarked for rehabilitating Telavi, the centre of Kvareli and the villages of Akhmeta. In addition, gas, water, electricity, and roads will be introduced to more villages in Kakheti.
It was only November of last year when President Mikheil Saakashvili called 2012 the "Year of Kakheti." Sharing his plans for developing the region, Saakashvili announced intended improvements in logistics, infrastructure, and communications. Concerned that Kakheti, due to geography, has been historically ignored, he promised to promote the region which he says has "the best people".
Calling it "an interesting year" for carrying out infrastructure projects, Governor Gviniashvili explained that improvements made in 2011 have increased the number of tourists in Kakheti, and positively reflected in the incomes of local people. Aimed at further popularizing the region, local officials talked of the "unprecedented rehabilitation" that aims to preserve the traditional look of the region. Tour operators are also optimistic about the plans for 2012, confident that rehabilitation of churches like Gremi would be of special importance, as traditional Georgian churches are big draws for foreign visitors. Emphasizing the importance of the projects, officials expressed their confidence that the improvements will make Kakheti "the centre of world tourism."
Parliamentary Chairman Bakradze stated that Kakheti is one of the most beautiful parts of the country, and that improved infrastructure will make it even more attractive for tourists and visitors, while helping locals improve their financial and living conditions. He intends to hold meetings with other regional representatives, as similar projects are to be carried out all across the country.