In Rustavi, Saakashvili optimistic for industrial future
By Salome Modebadze
Monday, January 23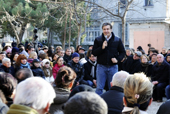 Speaking in Rustavi, Georgian President Mikheil Saakashvili promised to make the town competitive on an international level. Meeting with residents on January 21, Saakashvili said he was optimistic about the recent progress made in the town. Welcoming the economic and infrastructure improvement such as painted facades, updated motorways and street lighting, and new construction, Saakashvili encouraged the local administration to do even more for its people.
Expressing a readiness to see new faces in politics, Saakashvili worried that the people who symbolize the history of corruption in Georgia are fighting against his administration. "The people who have violated our [Georgians'] dignity have now gathered to return us to the [dark] past. I think our answer to their activities would be the same as we had with our occupiers – we would develop and improve our conditions," Saakashvili stated. He told locals he is aware of their hard living conditions but is confident in the possibility of fully eradicating unemployment and further increasing incomes.
After an introduction from local officials outlining the projects aimed at developing Rustavi, Saakashvili welcomed a decrease in the level of unemployment (from 40 to 10%) and gave recommendations to the municipality and its business sector. Insisting on making Rustavi one of the most prosperous towns in the country, Saakashvili stressed the necessity for regaining its importance as an industrial centre. Highlighting that the government's main task is to lobby local businesses and industries, Saakashvili expressed his pride that people in Rustavi have moved from the streets to workshops, not only providing them with salaries, but also relieving their worries about feeding their children.
Speaking of Georgia as a whole, Saakashvili welcomed the increasing interest in the industrial sector and the introduction of new factories. He hopes that the rate of exports would soon exceed that of imports, stating that Georgia does not have a problem "selling products", as currently 85% of local manufactured goods are exported. Saakashvili expressed confidence that Georgia could soon become the industrial hub for the entire region, as well as a global player. "We can now only imagine our market in the frame of the region but as a matter of fact we are becoming part of the world web," he said, stressing that Georgia would not stop thinking globally in order to take its place on the international market.