New Deputy Foreign Minister of Abkhazia emphasizes independence, diplomacy
By Ernest Petrosyan
Tuesday, January 24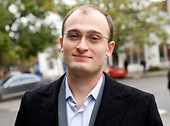 Newly appointed Deputy Foreign Minister of the breakaway region of Abkhazia, Irakli Khintba, announced that achieving "broad international recognition" is the top priority of Abkhazian foreign policy. Khintba, 28, was an associate professor of political science at the Abkhaz State University and an analyst on Abkhazia-related issues. He was appointed on January 10 of this year.
In an interview with RFE/RL's Russian-language service on January 20, Khintba outlined three priorities for the fledgling state: international recognition, "strengthening strategic relations with Russia, and providing security and sovereignty and independence of Abkhaz republic." This third priority, he noted, "will include the issue of settlement of relations with Tbilisi."
According to Khitba "the work over increasing countries which recognize Abkhazia's independence requires lots of efforts, time and [a] creative approach. That is a part of our work, and I think the outcome will definitely occur."
The Deputy Minister considers that "working with Europe and the West as whole" is also a way to achieve international recognition and eventually independence.
"We are guided by the principle of openness; we are ready to communicate, to have contact with European institutions. However we have to take into consideration [the] complexity of the foreign policy context, unresolved conflict with Georgia, as well as other challenges and threats. That's why we have to be careful and prudent in our cooperation with the outside world," he continued.
Overall, Khintba emphasized communication, even with those in opposition to Abkhazia's goals, "since we realize that this is the way we can achieve something." He says he recognizes that diplomacy has become "the forefront of securing sovereignty and independence, preceding military issues. That's why we continue our participation in the Geneva discussions and deem this format as important and necessary for the sides in the region to exchange information and to make the Abkhaz position to be heard on the international level."
Recently, de-facto Abkhaz leader Alexander Ankvab, in a meeting with the breakaway region's foreign ministry, declared that Sokhumi will cease cooperation with those international organizations and NGOs offering Abkhazians "neutral" Georgian travel documents in order to leave Abkhazia. Instead, he insisted other countries accept Abkhazian documents, as he considers his region a part of the international community.
According to the Georgian government, up to 50 of these "neutral" passports have been issued since November 2011.