Burjanadze fuels opposition in-fighting
By Gvantsa Gabekhadze
Tuesday, January 24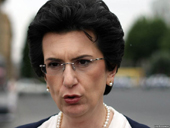 Leader of the Democratic Movement – United Georgia party and one of the leaders of Representative Public assembly, Nino Burjanadze, has made controversial statements regarding Georgia's current political climate, and criticized her fellow opposition leaders for their failure to act. She claims that the coming of a new political force has had little change on the situation inside the government, signaling out billionaire Bidzina Ivanishvili in her forceful remarks.
Burjanadze made clear that the priorities of her party differ from that of other opposition parties, particularly those which ally themselves with Ivanishvili. "Struggle is very important, [the] opposition must struggle, but not like opposition parties have struggled during last two years," Burjanadze stated, underlining that the changes to the electoral environment promised by the opposition are not necessarily positive.
According to the former parliamentary speaker, recent changes carried out in the election code are "dragon-like" and may prevent opposition parties from achieving any success in the elections. "Today, there must be extremely active actions from opposition parties, street rallies among them, some concrete changes to be undertaken in the law – as those changes made by the authorities disable [the] opposition even to breath."
She has compared the current situation to the Rose Revolution period of 2003, but acknowledged that opposition success during that time was easier to achieve, as the legal situation was different. "Despite the fact [that a] new political player [Ivanishvili] came to the arena, unfortunately no serious steps have been made, just passive statements." According to Burjanadze, active opposition, such as rallies and protests, is required in order to prevent the administration from gaining manipulative power over elections. Otherwise, she asserts, participation in the upcoming elections will be useless.
Burjanadze also had sharp criticism for Irakli Alasania, the leader of Our Georgia – Free Democrats. She blames him, "with [the] assistance of foreign partners," for lengthening Saakashvili's time in power. Noting Alasania's participation in Ivanishvili's coalition, she claims has no grounds to call him anyone's "project" and hopes, "I would not have any ground to call him anyone's project in future."
As her comments have indicated, the priorities of the opposition forces do not always match. According to Alsania, Ivanishvili has purposely not invited Burjanadze to meet. He dismissed her criticisms, reiterating his team's refusal to forcibly change the political system, noting that such attempts are part of the reason "the state has always been in crisis."
Alasania also stated that Burjanadze, Kakha Kukava and others not associated with Ivanishvili's coalition, "would be able to participate in the elections in the state, where the elections would be carried out transparently and freely and, in case they have supporters, find themselves in the Parliament." He added that he has no personal conflict with Burjanadze, and "if there is some problem between us, Burjanadze should blame herself [for it]. She had the chance to be one of the most important politicians of the state, however she ruined this chance."
As for those with whom Ivanishvili is collaborating, besides Zviad Dzidziguri of the Conservative party and Koba Davitashvili of People's party, Alasania noted that "negotiations are ongoing with National Forum and I wish the Forum to be the part of the changes in the state."
As analyst Gia Khukhashvili told
The Messenger
, Burjanadze has tried to be diplomatic and not to burn bridges with Ivanishvili, however her most recent statements suggest she is changing her tack. He calls on Burjanadze to keep calm, reminding her of her activities while in power, and asserting, "I think that she has no right of giving advice." As for the current political atmosphere, Khukhashvili noted that serious political steps can't be made hastily, and that Georgian people should be more patient.