Third British-Georgia co-production a story of youth and memory
By Salome Modebadze
Tuesday, January 24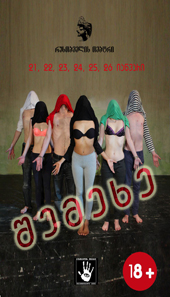 From January 21-26, three British and three Georgian actors are on the experimental stage of the Rustaveli Theatre to offer a truly unusual performance. Their 75-minute play,
Touch Me
, unites their own memories in an attempt to open the hearts of the audience. Staged by a young British director, the production starts Daniel Ainsworth, Janet Etuk, Luke Clark, Salome Maisashvili, Shako Mirianashvili and Tekla Javakhadze.
Director Alexander Zeldin, having worked on the stories that make up Touch Me with Georgian scriptwriter Davit Gabunia, aims at uncovering the hidden emotions of the audience, and encourages them to reflect on how the play makes them feel in their heart. Zeldin says he feels lucky to be working with young Georgian actors, especially when talking about the problems young people are facing in the modern world.
In
Touch Me
, six young people entertain themselves with children's games in an effort to remain optimistic about their dubious futures. They sing and dance while searching for the emotional ties between their childhood and youth. One of the stars, Salome Maisashvili, found the experience quite interesting. She plays an ordinary girl, but one who shares the actress's faults, joys, and childhood memories. "It was really cool to play self-improvised stories an the stage," she explained.
This, the third co-production between the Rustaveli Theatre and British Council Georgia, restricts its audience to those over the age of 18, thanks to the kind of erotic scenes unusual on the Georgian stage. "All of us have some experience which we try to hide from others, not only on the sexual level but in general," actor Shako Mirianashvili admitted, explaining that this was part of the motivation for the production.
The show is performed in a mixture of both English and Georgian, and is part revelation and part confrontation. Actors share personal memories with the audience, but also expect them to think about what we regret and miss about our childhoods – and what still lingers. The story is also an exploration of young people from different countries trying to form intimate relations with one another, despite language barriers. For this, the Georgian and British actors spent a long time sharing their personal stories through the universal language of the body. "The director asked us a lots of questions about our past and the more questions he gave the more we could dig inside and speak out at the stage," British actress Janet Etuk explained.
Speaking of the importance of theatrical co-productions between Georgia and the UK, Director of British Council Georgia, Zaza Purtseladze, hoped that the audience would both enjoy and respond to such a new style of performance, particularly when it deals with the universal struggle of young people growing up.