Human Rights Watch report criticizes government
By Gvantsa Gabekhadze
Wednesday, January 25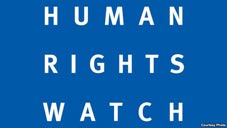 Human Rights Watch's 2011 report on Georgia has been released, and it takes a critical stance towards the current Georgian government. According to the report, the current administration has failed to meet European standards in several, significant areas.
The report made special note of the problems face by internally displaced persons (IDPs). The authors report, "Since June, the authorities have evicted hundreds of IDPs from state-owned temporary collective centers in Tbilisi, supposedly to provide them with durable housing solutions. The authorities failed to respect international standards regarding evictions: they did not engage in genuine consultation with IDPs, did not provide reasonable advance notice of eviction, and failed to provide adequate alternatives. Some IDPs received no alternative housing; others were sent to homes in remote regions, some of which had damaged roofs or lacked electricity or gas."
The report also claims that the government did not investigate war-related violations of human rights. It also criticizes the government for failing to launch an investigation into charges of police brutality at largely peaceful demonstrations in Tbilisi in 2007 and 2009, as well as the 2006 operation to quell a prison riot that left seven prisoners dead.
Problems concerning the media and judicial systems were also outlined, noting the lack of independent voices in television broadcasting, and stating that "transparency of media ownership remains a concern."
The report indicates that prison overcrowding remains a problem, leading to poor conditions. The courts' low number of acquittals is cited as a key factor.
From an international viewpoint, the United States and the European Union have deepened their political engagement and economic ties with Georgia. Meanwhile, Russia continued to occupy Georgia's breakaway regions of South Ossetia and Abkhazia and strengthened its military presence in the region by establishing a military base and placing an advanced surface-to-air missile system in Abkhazia.
The President's office responded to the report on January 24, remarking that though they may not agree with all of the information and assessments, they consider the document important, and are pleased that both local and international organizations are working on human rights issues in Georgia.
The Chair of Georgia's Professions Union, which was mention for the first time in the 2011 report, welcomes the evaluation, saying that international organizations reporting on labour violations "irritates the government". Irakli Petriashvili assumes the government is unhappy with this use of information, which it provides to international groups, as he believes that the priority of the government is to create an "iron curtain" to hide violations and display itself as a democratic entity.
Opposition forces in general were pleased with the report, as many of their own criticisms were reflected by Human Rights Watch.
Analyst Nika Chitadze says that some positives steps have been taken by the government, including on issues such as IDPs and the court system – but there is much left to be done. He agreed that the government should pay special attention to amending the labour code, as there exist definite violations of employee rights. As for an investigation of war crimes, Chitadze says that such an inquiry would be in the Georgian interest, as it was the invaded party, although this is one area which it is not entirely in the hands of the government.