Government, experts react to potential talks with Russia
By Salome Modebadze
Friday, January 27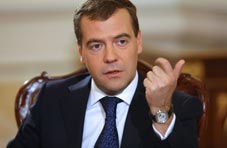 The Georgian government has responded to Russian President Dimitri Medvedev's comments re-iterating his government's policy of non-cooperation with Georgian President Mikheil Saakashvili. Although Medvedev expressed his hopes that normal relations between the two neighboring countries would soon resume, his approach towards the issue has been criticized by the ruling United National Movement (UNM) party as "another demagogic statement" made by Prime Minister Vladimir Putin's "marionette."
According to presidential spokesperson, Manana Manjgaladze, Georgia will not restore diplomatic relations with its northern neighbor until its unauthorized embassies in Tskhinvali, South Ossetia and Sokhumi, Abkhazia are closed. Manjgaladze called the issue of the breakaway regions as one that affects the entire Georgian population, thanks to the thousands of internally displaced persons (IDPs) created by the wars of the 1990s, and 2008. She explained that it is not Georgia's choice to stop diplomatic relations with Russia, but rather a consequence of Russia's invasion of Georgian territory, and its presence in Georgia's disputed regions.
Georgian Deputy Minister of Foreign Affairs, Nino Kalandadze, said that Georgia will not heed Russia's demands, even without President Saakashvili's governance. Kalandadze highlighted Georgia's readiness to start a conversation with Russia, but discouraged Medvedev from ignoring the will of the Georgian people, who have chosen Saakashvili through democratic elections. "The Georgian people remember how Russia started a war with Georgia in 2008 – not against the government, but against the people," the Deputy Minister declared, adding that sovereignty, independence and territorial integrity will be Georgian values under any administration.
Political analyst Zurab Abashidze believes that the Georgian government should not reject talks with Russia, but explained that "restoration of diplomatic relations should be the result of the process, not its beginning." Conflict analyst Gogi Khutsishvili adds that even though one president refuses to talk to another, a group of high-ranking officials can take upon themselves the responsibility to lead an unofficial dialogue.
Georgia's Experts' Club members suggest that tension with Georgia causes real problems to its northern neighbor. Welcoming Medvedev's readiness to normalize relations, the club members suspect that the Kremlin is not yet ready to follow Sarkozy-Medvedev's August 12, 2008 ceasefire agreement and leave the disputed regions. However, Russian negotiations may include talks of the restoration of economic ties, which would benefit both parties. It is possible, they suggest, that Medvedev's statement is merely rhetoric aimed at improving Russia's image on the world arena, and that Georgia should take advantage of this opening.