Saakashvili promotes Georgia in America
By Ernest Petrosyan
Tuesday, January 31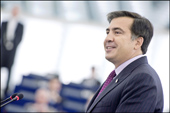 In advance of his meeting with U.S. President Barack Obama, Georgian President Mikheil Saakashvili spoke with Daniel W. Yohannes, Chief Executive Officer of the Millennium Challenge Corporation (MCC). As Georgian television outlets have reported, the topic of the January 29 meeting was education.
Saakashvili introduced Yohannes to a new technical university currently being constructed in Batumi. "Our great ambition is to open a branch of an American university in Georgia. One of the headquarters will be Batumi. We are not waiting for Americans. We started the construction and it will be finished very soon. I showed the chief of the MCC the university project that will be opened in September. It is one of the most beautiful buildings in Georgia and it will be a symbol of breakthrough and improvement in the system of education, though we're also working on opening cool [public] schools in Georgia," the President said.
He also highlighted the openings of tens of new schools in recent years, promising to open hundreds of such schools with the support of the American government. "Our ambition is to have world class clinics and schools in Georgia before the presidential term expires. Once more it has been confirmed today that the Americans will join us in it and help us," Saakashvili said.
MCC Chief Executive Officer Yohannes said that Georgia has made significant progress in education, although there is remains much to do for the future. As of today, "I'm satisfied with the results," he remarked.
President Saakasvhili also promoted another Georgian success story, telling journalists in Washington, "Many countries want to share Georgia's experience in the fight against corruption." He revealed an upcoming book published by the World Bank, which outlines Georgia's success. The book, officially released this week, is titled Fighting Corruption in Public Services: Chronicling Georgia's Reforms. Saakashvili referred to Georgia as a "world brand" in combating corruption, referencing interest the country has attracted from governments across the globe.
Today, Saakashvili will meet with President Obama, an event that has prompted much speculation in Georgia as to the content and tone of the talks. Chair of the Parliamentary Committee on Foreign Affairs, Akaki Minashvili, sees the meeting as a warning for Russia and a confirmation of American support for Georgia.
Political analysts believe that the upcoming Georgian elections will be on the agenda, and assume that Obama will put some pressure on Saakashvili to conduct the elections in a free, fair and transparent environment. Others suggest that Saakashvili is in Washington to discuss possible developments with Iran.
According to Georgian Presidential spokesperson Manana Manjgaladze, the presidents will discuss defense and security issues, strengthening democratic reforms, and cooperation in a number of fields, including economics, energy, and trade. The parties will also speak about deepening ties and cooperation in the field of culture.
Manjgaladze credits U.S. support for playing a decisive role in the past 20 years of Georgia's independence and sovereignty, as well as its democratic reforms, economic development, and potential integration into NATO.
She added that a meeting with officials from the legislative and executive branches is also scheduled, where President Saakashvili will speak with Vice President Joe Biden and speaker of the House of Representatives, John Boehner.