Renovated children's hospital opens in Tbilisi
By Salome Modebadze
Tuesday, January 31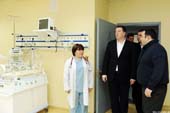 Mayor of Tbilisi, Gigi Ugulava, visited the renovated Iashvili Children's Central Hospital on Monday. The hospital recently underwent reconstruction in order to ensure access to modern, quality services for children in need.
Iashvili Hospital is one of the few hospitals in Georgia able to meet international standards, by employing doctors trained in America and Europe, and by providing 24-hour medical services. A renovated reception hall, emergency department, and a 40-bed critical medicine and intensive unit for newborns have all been improved. A special 24-hour observation unit with one-bed rooms was created, and modern equipment from the United States, Japan, and Germany was purchased.
As Shota Joglidze, the hospital's General Director, noted that only the half of the hospital has been renovated so far. "But the emergency department can get twice as many patients as before the rehabilitation," he explained.
Visiting the hospital, Mayor Ugulava met with staff and emphasized the importance of its rehabilitation in order to make Tbilisi "a centre for medical tourism". According to information released by Tbilisi City Hall, 120 000 people were insured by the Mayor's Office in 2012 which, according to them, is a significant social project.
Stressing that any persons receiving state insurance can fully access the services offered by any of the newly opened and renovated hospitals in Georgia, Ugulava announced that children between 0-5 would also get special insurance packages as of fall 2012.
Of the 720 members of the hospital's staff, around 20 were selected from the special employment database created by the Tbilisi City Hall. Eliko Midelashvili was among the job-seekers who found a job at Iashvili Hospital thanks to City Hall's unemployment database. "I had written a letter in order to find a job and I was lucky to be sent to this hospital," she said. According to Tbilisi City Hall's official website, hundreds of individuals have found employment since 2010.