Ivanishvili praises Obama meeting, but not media coverage
By Ernest Petrosyan
Thursday, February 2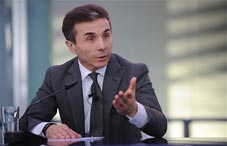 Georgian opposition leader and billionaire Bidzina Ivanishvili has praised the recent meeting between U.S. President Barack Obama and Georgian President Mikheil Saakashvili, saying "the United States has once again demonstrated its support for Georgia by offering the President a free trade agreement".
He said that such an agreement with the U.S. would be of "huge importance for our country".
Ivanishvili was also pleased with Obama's support for Georgia's NATO bid, but noted that, "it is not only the U.S. which decides this issue, it also depends on the decisions of other NATO member states. [Though] I do not think there is any NATO member state that may be principally against it".
"As you know, the absolute majority of the Georgian population also supports it and we too welcome the prospect of Georgia's NATO membership," he continued. "I think that the only person who hinders it, is Mr. Saakashvili," – referring to the administration's involvement in the 2008 war with Russia.
However, Ivanishvili had some criticism for what he identifies as "pro-government" television channels, who gave Saakashvili sole credit for the meeting. "Of course that's not the case; it is easy to see that this meeting was an expression [by the U.S. President] of respect towards our country and the people of Georgia," Ivanishvili asserted.
"But one can really notice some subtext in this meeting, particularly when Obama reminds Saakashvili that he hopes the transfer of power will take place through democratic elections and through legal means," added Ivanishvili, noting that some television news outlets ignored Obama's remarks on free and fair elections and a "formal power transfer".
Giorgi Targamadze, leader of parliamentary minority party, the Christian Democrats, also hailed the meeting. He believes that every issue discussed by the two presidents will facilitate further progress of democratic processes in Georgia.
"The President of the United States not only reiterated, but reinforced [support] for Georgia... in Georgia's security and defense, enhancement of trade relations and economic assistance – and what is most important for us – transfer of power via democratic and free elections," he explained.
The minority leader was also in Washington this week, meeting with Senator John McCain and other government officials.
Labour Party leader Shalva Natelashvili was one of the few opposition members to criticize Obama's remarks and the meeting as a whole. He called the White House's praise "a gross insult," and said the meeting demonstrated that "Georgia is not only a colony, but that we are collective slaves of the United States".