Saakashvili speaks to Senators, World Bank in Washington
By Salome Modebadze
Thursday, February 2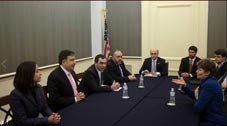 Georgian President Mikheil Saakashvili met with the U.S. lawmakers and financial analysts in Washington on Tuesday, praising his country's many reforms.
A potential free trade agreement between Georgia and the U.S., Georgian-Russian relations, and the situation in Abkhazia and South Ossetia – as well as other regional security issues – were discussed at a meeting with John Kerry, the chairman of the U.S. Senate Committee on Foreign Relations, and a former presidential candidate.
Welcoming Georgia's aspiration to join NATO, the gathered senators expressed their support for Georgia's sovereignty and territorial integrity, while Saakashvili thanked Congress for their resolution acknowledging Abkhazia and South Ossetia as Russian-occupied territories.
Congratulating Saakashvili on a recent World Bank report on Georgia's successful reforms, Senator Jeanne Shaheen approved of Georgia's attempts to defeat corruption and create the best business climate in the region. Speaking of the proposed free trade agreement, Shaheen emphasized the importance of Georgia's security for the U.S. She also noted that Georgia's participation in the Afghan mission speaks very well for Georgia's NATO bid.
Later, while attending the launch of the World Bank-published book, Fighting Corruption in Public Services - Chronicling Georgia's Reforms, President Saakashvili shared the country's success story with financial analysts. The book details the successful anti-corruption campaign carried out in Georgia since 2003's Rose Revolution, and illustrates how the reforms in law enforcement, tax administration, customs, energy supply, business regulations, civil and public registries, university entrance exams, and municipal services have been achieved by the young government. By analyzing the accountability framework between the government, public service providers, and service users, the report aims to encourage other countries to replicate the Georgian experience.
Such success in a short period of time, according to Asad Alam, World Bank Regional Director for the South Caucasus and primary author of the book, is possible with great political will. Emphasizing the "uniqueness" of Georgia's success in fighting corruption, Alam said that "this book takes an objective factual case study approach to chronicle how corruption in specific public services was fought".
Saying that Georgia's success story destroyed the myth that "corruption is culture", Saakashvili reminisced about the post-Revolution period in which he came to power with a young team. "Our slogan, 'Georgia without Corruption', sounded like an unfulfilled dream, but we deeply believed that we would have it… The citizens would start respecting the law if the law respected them," Saakashvili said.