Georgia Shares Its Experience with the Republic of Fiji
Friday, February 3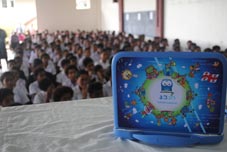 The representatives of the Ministry of Education and Science of Georgia presented 200 Georgian net-books to the Republic Fiji during their official visit.
The representatives of the Republic of Fiji expressed their gratitude to the Georgian Government and affirmed that receiving these net-books from Georgia is very important for them as Fijiís Government is now implementing the reforms of educational system and the improvement of teaching of information technology is one of the top priorities.
In the scope of the official visit, Georgian delegation held official meetings with Minister of Foreign Affairs and International Co-Operation and Minister of Education, National Heritage, Culture and Arts and Youth and Sport, Labor, Industrial Relations and Employment of the Republic of Fiji. Members of delegation also visited Fijiís Public Schools.
The representatives of the Government of Fiji showed great interest in the reforms implemented in different fields in Georgia. As they reaffirmed, Georgian experience will help them to further implement the process of reforms in their country.
(MES)