Commission will create new voters list with door-to-door registration
By Ernest Petrosyan
Monday, February 6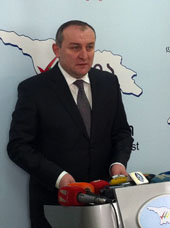 Mamuka Katsitadze, the Chairman of the State Commission on ensuring the accuracy of the voters list, summarized the Commission's work at a briefing on Friday. As Katsitadze told journalists, the commission has completed the first period of its internal restructuring.
At the end of this first stage, the commission has improved its legal base, achieved financial independence and determined its budget, created a logo and website, and staffed and outfitted their office. According to the Chairman, approximately 300 000 USD has been spent from the state budget so far.
The second period will be dedicated to the creation of mobile groups and "door-to-door methodology". Door-to-door voter registration will be held as part of the third and fourth stages in April and May, with June dedicated to a review of the registration data.
The Commission will sum up the final voters' list in July, and will be able to make necessary corrections up to 14 days before election day.
The Commission's budget is five million GEL, with three million of that earmarked as salary for the expected 11 000 staffers, including those involved in door-to-door registration and monitoring.
The Commission is made up of members of the government, opposition parties (New Rights, Christian Democrats, and National Democratic Party) and NGOs. Asked why the Commission does not include the members from other opposition parties (such as the Free Democrats and the Republicans), Commission Press Speaker Giorgi Chikovani told
The Messenger
that those two parties did not express interest.
According to a representative from the Free Democrats, Irakli Chikovani, the Commission is not trustworthy, and intends to mislead the international community. "We offered [a plan for] how to improve and elaborate the voters list, however, our initiative was rejected. They are using the same methods as was used in 2010 local elections," which he criticized for their inaccuracy.