Opposition continues to speculate about post-election Georgia
By Gvantsa Gabekhadze
Monday, February 6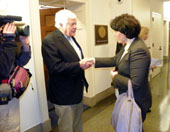 Opposition pre-campaigning is following in the footsteps of President Saakashvili, with some members of Georgia's opposition parties paying official visits to the United States in order to bolster their position abroad in case of a United National Movement loss in October.
Tina Khidasheli of Georgia's Republican Party met with American Senators last week, and spoke about the Georgian Dream political movement established by Bidzina Ivanishvili. She was pleased to hear that the senators "were perfectly informed of... the ongoing situation in Georgia, after Ivanishvili's entry to the political arena" and that they had expressed interest in the movement and its leader.
Khidasheli and the senators also emphasized the importance of a Georgian-American strategic partnership, and spoke of concrete projects for further developing democratic institutions.
While Khidasheli is promoting Georgian Dream abroad, Gia Tsagareshvili of the Free Democrats notes that Ivanishvili is close to seeking official party status, and that coalition-building in earnest will begin as soon as the end of the month.
Tsagareshvili also commented on the criticism leveled against Georgian Dream by Nino Burjanadze, leader of Democratic Movement –United Georgia. He maintained that collaboration with Burjanadze is unimaginable, as "when you want to come into a house and at the same time abuse the host, it is very unacceptable to me". He expressed confidence, though, that she will not have a negative impact on Georgian Dream's electoral prospects.
Yet some do not see either Saakashvili or Ivanishvili as the right leader for Georgia. "I doubt they serve Georgian interests," Chair of the Ilia Chavchavadze Society, Tamar Chkheidze, said. "They are not ones on whom one will be able to rally around". She believes that change must be achieved not only through legal means such as elections, but also street rallies.
Head of the Elections and Political Science Centre, Kakha Kakhishvili, believes that it is not in America's interests for the United National Movement to lose power. The U.S. government has invested in many projects in Georgia, so "after [Obama's] statements that Georgia has carried out serious reforms and changed the mentality of its society, to support its collapse [through a non-UNM government], will negatively reflect on America's image as well". Kakhishvili noted that everything looks different from a distance – "America, and even our neighboring states, [see] Georgian reforms as successful; [meanwhile] people inside [Georgia] have clear negative attitudes towards various changes," Kakhishvili told
The Messenger
.
He believes that it is important to the U.S. to have a calm and stable situation in Georgia, and that Ivanishvili ally parties will probably not refuse U.S. help in making a smooth transition.
Kakhaishvili also made his forecast regarding Saakashvili's political future, remarking that he sees him as the Chair of Parliament, as "he even hinted about it while meeting with Obama. He mentioned that Georgia is moving towards a strong parliamentary state. This post gives him many advantages... and is an active post, unlike the Prime Minister's seat, which is more of a cabinet one".