Saakashvili praises Georgian, American soldiers at U.S. Naval Academy
By Salome Modebadze
Monday, February 6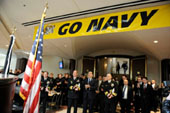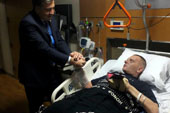 Georgian President Mikheil Saakashvili visited the United States Naval Academy in Annapolis, Maryland on February 3. Calling Georgia "a fully democratic country," Secretary of the Department of the Navy Ray Mabus expressed that it was a "real pleasure and distinct privilege" for the Naval Academy to host President Saakashvili.
The Navy Secretary also highlighted the close ties and friendship between Georgia and the U.S., and recognized Georgia as a major contributor to Afghan mission, with the highest number of troops per capita. Mabus also said Georgian soldiers and U.S. Marines have become "bonded in the brotherhood of combat."
Introducing Georgia to the students of the United States Naval Academy as "a country of ancient warriors and one of the most ancient Christian countries in the world," Saakashvili highlighted how Georgians "cherish" freedom. He spoke of the U.S. as an "idea" that supports small nations when their freedom is threatened, like in case of Georgia when it was "besieged" by a better-armed enemy.
Saakashvili also met with Georgian officer Alexander Tugushi, who was injured serving in the ISAF mission, and honored him for his "brave spirit." Thanking the U.S. for their support, Saakashvili said the U.S. not only has allies in the Georgian government but that the Georgian people are willing to fight together with the American people.
Praising the bravery of Georgian soldiers, Saakashvili spoke of the great experience Afghanistan is providing Georgian soldiers. He affirmed that Georgia's contribution to the NATO-led forces in Afghanistan "has not been in vain" and has resulted in moving U.S.-Georgia military cooperation to "a new level" that will help Georgia to increase its self-defense capabilities. "Of course it is Georgia that we should defend, and that we should care for – Georgian troops are in Afghanistan first and foremost because of Georgia," Saakashvili said.
This "new level" of defense cooperation means that the U.S. will begin to ship heavy weaponry to Georgia, as part of a bilateral defense and security program. The United States has enacted similar programs with militaries around the world, including some of Georgia's neighbors, in support of their defense modernization efforts.
Expressing his gratitude that four Georgian students are part of the 4400 individuals training at the Naval Academy, Saakashvili spoke of the common future and common fight in which the two countries will prevail together.