Ivanishvili optimistic about opposition power
By Gvantsa Gabekhadze
Tuesday, February 7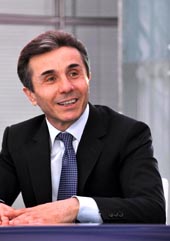 Georgian opposition leader Bidzina Ivanishvili does not rule out street protests if he believes the results of the upcoming elections were rigged, the billionaire asserted in an interview with the
Asaval-Dasavali
newspaper. He also spoke of "serious shakes and destabilization" within the ruling United National Movement, current ties between the former Defense Minister, Irakli Okruashvili, and the government, and made a special invitation to those parties who are not members of his Georgian Dream coalition.
"If the government tries to rig 20 or 30% of the votes, we will not act like angels, of course. We will take to the streets and protect our votes. We will defend our votes within the law," Ivanishvili said in the February 6 interview.
"People will defend their votes and they will show the whole world who is the winner of the elections," he added. He said he was sure neither the U.S. nor Europe would allow another precedent of falsification of election results in Georgia. "There might be some 5% error, but the National Movement will not be able to rig 20% of the vote," he maintained.
He also highlighted the problems he sees inside the UNM, and its questionable ties to outside parties. Ivanishvili discussed Okruashvili's "friendly" relationship with the current administration, saying he believes that the former Defense Minister's opposition credibility is just a mirage – "They had some inner conflict but, as far as I know currently, they are together again".
As for his new political movement, Ivanishvili has invited ideologically-compatible parties to run common candidates with Georgian Dream in the elections, in an effort to stop vote-splitting and defeat the UNM.
(On the same day his interview in
Asaval-Dasavali
was published, the National Forum confirmed its entrance into Ivanishvili's coalition.)
Overall, Ivanishvili is optimistic about the elections. He believes that the statements Saakashvili made at his White House meeting are a sign that he will not stay in politics after his presidential term expires. "It is well known in democratic states what the transfer of democracy means and how long a time the ruling party is to be in power," he noted.
UNM representative Nugzar Tsiklauri told
The Messenger
that Ivanishvili's statements have became more and more "inadequate", and criticized his belief that Obama has some power over Saakashvili's political decisions. "If someone thinks that the U.S. gives some directions [as to] who will take what post, to whom power is to be delivered, etc, he has too little information and too small a perception of democracy," he stated. He also called Ivanishvili's accusations of collaboration with Okruashvili "absurd", and criticized his opponent for not having any ideas that excite the Georgian public. Tsiklauri maintained that the most important issues for the current leadership of Georgia is creating a developed, economically strong state, and bringing about the reintegration of the breakaway territories.
Analyst Malkhaz Chemia believes that the main takeaway message from the Obama-Saakashvili meeting is American interest in a democratic, pro-West course for Georgia. "To keep stability in the region is most important for the U.S. The new political direction – Ivanishvili – also has a clear pro-West orientation, thus if that group achieves [electoral] success, it would not be unacceptable for the United States," Chemia told
The Messenger
. Regarding Ivanishvili's support for street protests, he noted that such a movement needs concrete demands and a legislative foundation in order to be a serious weapon. "If the elections are falsified, and I hope that it will not happen, such a rally would be important and justified and would not be ended like the previous ones," he affirmed, referring to the May 26, 2011 political rallies that were shut down by police.
Head of the Election and Political Science Research Centre, Kakha Kakhishvili, estimates that Ivanishvili's chance of victory is only 30%, based on current reality. "The authorities have many resources [with which] to impose destabilization in the opposition," he said, noting that Ivanishvili claims he will take Parliament with a two-thirds majority. Yet that majority would be made up of a coalition of 8-9 opposition parties, which may be unable to govern, or split up, either way creating an opportunity for UNM to retake power.