Chinese spring festival February 6
Wednesday, February 8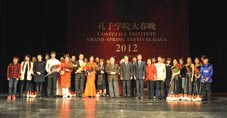 The Confucius Institute is hosting a Grand Spring Festival Gala at Kote Marjanishvili State Drama Theatre, offering traditional Chinese performances on February 6. The Confucius Institute at Georgian Free University is supported by the Embassy of the People's Republic of China and the Confucius Institute in China, and was founded in 2010.
Established under a partnership with Lanzhou University of China, the Confucius Institute is the first and only Chinese language and cultural centre in Georgia.
Welcoming cooperation between the Georgian and Chinese peoples, Vice-President of Lanzhou University Jing Tao said that the Confucius Institute serves as a bridge, breaking the borders between the two countries.
Hoping everyone will share in the joy of the Spring Festival, Jing Tao said cultural cooperation will deepen the ties of friendship between Georgia and China.
Ambassador Extraordinary and Plenipotentiary of the People's Republic of China to Georgia, H.E. Chen Jianfu attended the performance.