Cold, icy weather causing injuries
By Salome Modebadze
Wednesday, February 8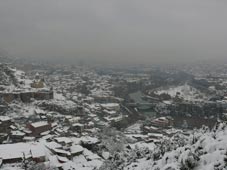 Intensive snow and low temperatures have caused problems for residents of Eastern Georgia and the capital, Tbilisi. The number of individuals requiring hospitalization grows every day, even as central roads have been cleaned and transportation is not restricted, as people are slipping on icy walkways.
Dr. Levan Chikvelia advises all residents to dress as warmly as possible and to wear boots with good traction. Approximately 7-8 individuals are being operated on each day due to injuries sustained in slips and falls. In addition, a 75-year-old woman was recently taken to an intensive care unit in Tbilisi due to frozen extremities.
Tornike Shiolashvili, Director General of Tbilservice Group and head of the Tbilisi Municipal Cleaning Service, said that special brigades have been mobilized in case of special weather-related needs. A hotline has also been opened so residents can find current information about road obstructions in Tbilisi.
Cold weather has frozen the confluence of the Mtkvari and Aragvi rivers in Mtskheta, as well as part of the Tbilisi Sea. Locals say that they have not seen that level of icing in several decades.
"Children are sliding on the ice, that's what's causing a problem. The ice is so thin that it may break any time and so we are watching over the territory," Nodar Chumbadze, Deputy Chair of Emergency Services Management Agency, said. He warned residents to keep their children off ice-covered bodies of water.
Weather forecasters say this pattern will last at least another week; it will be misty and snowy across the country and temperatures will range from -3 to -9.