Ivanishvili broadening his coalition
By Gvantsa Gabekhadze
Thursday, February 9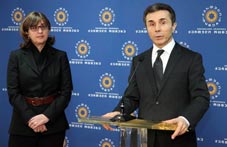 Leader of the Georgian Dream movement and controversial political figure, Bidzina Ivanishvili, has said that he welcomes large-scale street protests in Russia and assesses them as the starting point of the democratic process in that country. Ivanishvili made these comments at a press conference on February 8, where he also announced that two more leading politicians intend to join his coalition.
"Those actions and street rallies that are ongoing in Russia at the moment is part of democracy and I welcome this," Ivanishvili stated, although acknowledging that protests and rallies are not in his coalition's plans for Georgia. "Such events might only take place [here] in case of serious falsification of elections". He qualified his statement, saying that "five percent falsification would be bearable, however in case of 30%, we will come out and defend our votes within the law".
In the run-up to the fall elections, Ivanishvili is busy broadening his coalition. Wednesday he announced that Salome Zourabichvili, former leader of Georgia's Way, and Guguli Maghradze, leader of the movement Justice and Equality, are both negotiating to join Georgian Dream.
At the same time, negotiations are also ongoing with parties outside the coalition, regarding running common opposition candidates in majoritarian races.
Ivanishvili said that a formal unveiling of his party will be held either at the end of March or the beginning of April.
Government officials have promised free and fair elections, calling talk of falsification the "fantasy and hallucinations of a billionaire".
While most commentators agree that the upcoming elections are going to be a two-sided battle between the United National Movement and Georgian Dream, the National-Democrats are hoping to emerge as a third alternative on the fractured political landscape. According to Bachuki Kardava, a representative of the party, "[On] one side there is the National Movement, with huge [legislative] levers and... on the other side there is Ivanishvili, equipped with billions, who is the reflection of the National Movement".
Analyst Ramaz Sakvarelidze notes that Ivanishvili's strategy mirrors the one used by Saakashvili in the pre-Revolution period. "He has tried to unite opposition forces around him. The logic of the political battle demands such a coalition; any fight requires the unification of all forces and resources".