Georgia coping with record cold and snow
By Salome Modebadze
Thursday, February 9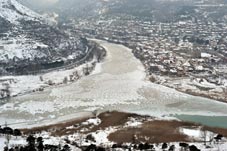 There is no escape from the cold weather in Georgia. Snow will continue to fall until February 12, and temperatures will drop to -7 Celsius in Tbilisi, -14 in Eastern Georgia, and -2 in the western part of the country.
Earlier this week, part of the Tbilisi Sea and Mtkvari river froze over. As of yesterday, Turtle and Lisi lakes have also froze.
Snowfall in Tbilisi exceeded 15 centimeters on Wednesday, hindering traffic in the capital. Special brigades from the Tbilisi Municipal Cleaning Service cleared and salted roads.
The situation differed on motorways outside the capital. Technical teams from the Roads Department of the Ministry of Regional Development and Infrastructure have been cleaning the Gombori motorway in Kakheti for the past 24 hours. Restrictions imposed on traffic in Kakheti region aimed at avoiding road accidents. According to the Kakheti Information Centre, the height of the accumulated snow reached 60 centimeters earlier this week.
The situation is harder in the villages of Kakheti, where roads have been closed due to snow. Koba Maisuradze, Governor of Akhmeta Municipality, said that the government will first clear central roads and later those that connect villages. Maisuradze explained that although his teams are clearing roads constantly, there is little practical effect as snow continues to fall in the region.
The Jvari pass in Eastern Georgia was also closed. Danger of avalanches prevented road brigades from clearing the Gudauri-Kobi and Stepantsminda-Larsi motorways. As the Mtskheta-Mtianeti Information Centre reports, transportation in the high mountainous villages of Kazbegi is incredibly difficult, but according to Deputy Governor Givi Amirkhanashvili, clearing procedures in the region are already under way.
The number of people requiring hospitalization due to slips and falls in the capital increases every day, causing the Emergency Situations Service of Tbilisi City Hall to work overtime to help those in need. According to Mayor Gigi Ugulava, the city's reserve fund will cover medical expenses for individuals without health insurance who are affected by the bad weather.
Irakli Alasania, leader of Our Georgia – Free Democrats, encouraged Ugulava to consider the interests of citizens and separate electricity and municipal cleaning payments during the unseasonably cold winter. Residents of Tbilisi have been paying a combined municipal cleaning and electricity bill since July, 2011. Per kilowatt of electricity, subscribers must pay 0.05 GEL for the cleaning service. In a statement released by his press service, Alasania asked the Mayor to think about those people requiring electricity for heat on freezing winter days.
Thousands of families in Samegrelo and Svaneti in Western Georgia have experienced problems with electricity due to snow, but Minister of Energy Alexander Khetaguri said that the situation will improved as soon as possible. "The energy sector will do everything to avoid any restrictions [on electricity provision] and the breakdown would be soon eradicated," said the Minister.
Heavy snow and frost have also closed schools across Georgia. As Minister of Education and Science Dimitri Shashkini explained, classes will resume on Monday, February 13 and make-up hours will be held on Saturdays.