Chamber of Control releases party finance data
By Gvantsa Gabekhadze
Friday, February 10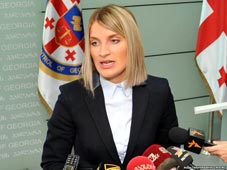 The Chamber of Control has released a financial audit of Georgian political parties.
The report, dated February 8, reveals that the ruling party, the United National Movement (UNM), received a total of 1.76 million GEL in donations. Up to 95% of those donations (1.66 million GEL) came from nineteen companies.
At least ten of them are engineering and road construction companies, which at various times have been state contractors, receiving funds from the state budget. The cited companies were enlisted for road construction and rehabilitation projects, or environmental impact assessments.
The report covers 2011, when corporate funding was allowed and when a political party had the right to receive a maximum of 100 000 GEL per company per year. Corporate donations are no longer legal according to the new party funding regulations that went into force in late December.
Other declarations show that state funding was the major source of income for most political parties. Most do not raise funds from party membership fees; even UNM does not receive income from this source. The exception is the Christian-Democratic Movement (CDM), the parliamentary minority, which raised approximately 13 700 GEL through membership fees last year.
CDM also received a corporate donation of 25 000 GEL from a meat manufacturer. It raised 17 200 GEL from individual citizens and received 767 583 GEL in funding from the state budget.
The New Rights Party declared a total of 230 422 GEL in 2011, of which 48 288 GEL the party received in donations from individuals, while 182 134 GEL came from the state.
The total income of the Republican Party in 2011 was 1 283 334 GEL, while the People's Party raised 1 322 202 GEL.
As required by the Chamber of Control, financial documentation is to be prepared not only by political parties, but also by non-governmental organizations (NGOs). The Chamber has already asked two NGOs – the New Generation–New Initiative and the Republican Institute – to file their documentation within three days.
This request by the Chamber was followed by immediate protest from civil society representatives, who rallied in front of the Chamber building. NGOs argue that they have nothing to hide, as they are often financed by credible foreign organizations and therefore frequently disclose their financial information. However, demands made by the Chamber of Control are "a violation of constitution and human rights". The Georgian Young Lawyer's Association argues that new changes to the law on political unions are "too obscure" and grant the government disproportionate powers.
The Chair of the Monitoring Department of the Chamber, Natia Mogeladze, said one of the greatest achievements of democracy is the right of expression, and that the Chamber's activities do not violate that right. She called the requests for documentation "just an ordinary process," and that her team will ensure that any assessment is fair and objective.