S. Ossetian would-be president hospitalized after police raid
By Ernest Petrosyan
Monday, February 13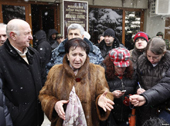 South Ossetian opposition leader, Alla Jioyeva, has been hospitalized after a raid on her office by law enforcement agencies, as her team prepared for their presidential self-inauguration on February 10.
According to authorities, Jioyeva's office was taken by police after she refused to appear before investigators as a witness into the case of post-election unrest outside the government building in Tskhinvali on November 30.
As the Chief Prosecutor's office stated, Jioyeva abruptly fell sick while talking with officers. She was immediately hospitalized and diagnosed with "hypertensive crisis" – highly elevated blood pressure which may lead to stroke.
As Jioyeva's brother told Russian news agencies, her condition has improved. "Her condition is stable and she can talk; she receives all the required medical treatment," Konstantin Jioyev told reporters in Tskhinvali.
However, witnesses say that that masked officers forced their way into the opposition's headquarters, during which time Jioyeva fell ill. According to one of Jioyeva's supporters, law enforcement agencies have surrounded the opposition office, as well as the hospital, prohibiting anyone from visiting Jioyeva. Russian news agency Interfax reports that Jioyeva's condition is worse than the official diagnosis, adding that the she is under intensive care in a local hospital.
In the meantime, acting leader of the South Ossetian regime, Vadim Brovcev, released a statement saying that Jioyeva's unconstitutional intention to self-inaugurate were "actually a call for forceful seizure of power".
In his statement, Brovtsev said he is assuming full responsibility of the breakaway region, in order to prevent "revolution". "Violation of laws will be eradicated in the most decisive way. Additional measures will be undertaken to protect law and order, and the constitutional rights of citizens," the statement read.
After winning a disputed presidential election last fall Jioyeva, refused to participate in the scheduled repeat presidential elections in March, and was planning to inaugurate herself on February 10. Many believe that this incident will most likely force her to leave politics. Georgian analyst Paata Zakareishvili says that Jioyeva's decision to cooperate with repeat elections forced some of her key allies, including Anatoly Barankevich and Jambolat Tedeev, to distance themselves from her. Since then, Zakareishvili believes, Jioyeva herself sensed she was losing ground, including losing popular support among the locals in Tskhinvali.
The breakaway region's central election commission, meanwhile, continues to receive applications for presidential candidates willing to run in the election on March 25. Among the would-be candidates is Dmitry Medoev, who serves as South Ossetia's ambassador to Russia.
According to speculations in the local media, ex-leader of the regime, Eduard Kokoity, led the raid of Jioyeva's office. Although Kokoity stepped down from the presidency as part of a post-election deal (handing over authority to then-Prime Minister Brovtsev), he remains Chair of the ruling party and is believed to have maintained significant influence over the region's authorities.