NGOs criticize Chamber of Control after meeting
By Gvantsa Gabekhadze
Monday, February 13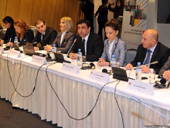 The Chamber of Control met with non-governmental organizations on February 10 in order to clarify why financial documentation is being demanded from NGOs active in Georgia.
The meeting was followed by a rally, held in front of the Chamber building, in protest of requests made for documents from the New Generation-New Initiative organization, and the Republican Institute.
Representatives from the Chamber of Control have recently stated that, as NGOs are increasingly involved in political life in Georgia, it is necessary that their finances are examined in the same way that political party funding is audited. The Chair of the monitoring service of the Chamber, Natia Mogeladze, affirmed that "there are quite many NGOs with open political views and attitudes. In case of the existence of some... public interest, we are obliged to check them. Checking [involves] only financial monitoring". She also noted that asking for financial information from an organization does not assume any suspicion towards that group.
Levan Bezhashvili, the head of the Chamber of Control, believes that NGOs are blowing recent changes to the law on political unions out of proportion. "In general, no law is perfect, however the law does not give [permission for those] manipulations that are frequently mentioned by NGOs," he maintained.
As Bezhashvili notes, the Chamber looks at the law more "sensibly, and based on the principle of conscientiousness". He says that those restrictions which apply to political parties are not applicable to NGOs, who are free to carry out civil activity without any restriction.
However, questions still remain. "There are a lot of issues in the law which are absolutely obscure... What criteria are used by the Chamber of Control when it chooses those organizations from which they demand financial documentation? Why in some cases do they demand one month's financial documentation, and in another case the whole year's?" Chair of International Transparency Georgia, Nina Khatiskatsi, asked. She also remarked that the action or association which would bring an NGO to the Chamber's attention has not yet been defined or explained by the government.
Nino Lomjaria, head of non-governmental organization Just Elections, believes that the statements made by Bezhashvili and other representatives of the Chamber are acceptable for the concerns of NGOs, however, she maintains that the Chamber fulfils the obligations as written in the law. "[The Chamber] explains the law better, which is acceptable for me, but it is also clear that the law demands different actions from them," she said, adding that when the Chamber elaborates on its recommendations for the law on political unions, NGOs will participate in the process.