Georgian Dream to premiere Wednesday
By Ernest Petrosyan
Tuesday, February 14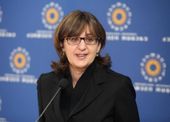 A formal unveiling of the Georgian Dream political party will be presented by Bidzina Ivanishvili on February 15, press spokeswoman Maya Panjikidze announced at a briefing on Monday. According to her, the 20-person group is made up of academics, analysts, human rights defenders, journalists, artists, and successful Georgians working abroad. She abstained from announcing the members of the group, noting that most of them are well known in society, but that there are also new faces coming to Georgian politics. Panjikidze also noted that gender and age balance has been maintained in the establishment of the group.
Panjikidze also addressed the issue of Ivanishvili's citizenship, which she claims will be resolved in the near future. The further development of the party depends on the re-instatement of his citizenship.
She also spoke of Ivanishvili's active, but careful, cooperation with other opposition parties. "He has no doubt that [Nino] Burjanadze and [Kakha] Kukava oppose the government and want to replace it; however, he does not share their methods... He also noted that our outlook is pro-Western, and that he will not cooperate with anti-Western forces," remarked Panjikidze.
As for street rallies, she reaffirmed that they are unacceptable to Ivanishvili, but added that protests will occur if the fall elections are tampered with. "He [Ivanishvili] noted that the voters will defend their votes, and our political force will do everything to defend the votes of our electorate," she asserted.
In response to Irakli Okruashvili's recent statement, Panjikidze doubted the reliability of his political intentions and personal background, seeing him as very ambiguous. "If we look through his activity during his membership in the government, including his direct involvement in the Ossetian conflict, and his detention and later departure from the country... As far as I know he feels fine enough there," she remarked, adding that he is a satellite figure of the United National Movement and an ally of Erosi Kitsmarishvili.
Okruashvili commented on these claims, expressing his regret over Ivanishvili's accusations, but nonetheless welcoming his efforts to impact Georgian politics.