UN critical of political freedoms in Georgia
By Gvantsa Gabekhadze
Tuesday, February 14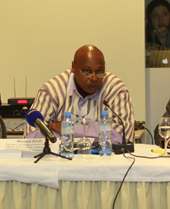 Maina Kiai, United Nations Special Rapporteur on the rights to freedom of peaceful assembly and of association, held a press conference on February 13 at the Courtyard Marriott hotel in Tbilisi, where he gave a critical assessment of those rights in Georgia.
The rapporteur began the conference by listing the achievements undertaken by the current administration, especially those related to police reforms and the treatment of religious minorities. However, he stated that Georgia is at a critical point – "[Georgia] can take further steps to improve on its record or take the country backwards in terms of human rights. The recent legislative acts, as well as state actions, appear to threaten this [latter] path".
Kiai believes that recent legislative changes are damaging to freedom of assembly and expression, saying "These amendments, at times, use ambiguous language, are fueling the overall climate of distrust, and appear to largely violate international human rights law". Kiai added that controversial amendments to the Organic Law on Political Unions of Citizens, which appear to apply restrictions on every individual who expresses political opinions or engages in political activity, especially financial, "violates the right to association and is potentially threatening to watchdog NGOs and civil society organizations whose work could be deemed political". He also hinted that those recent amendments might have been motivated by a desire to control the political activities of a specific individual, rather than for objective and sustainable reasons. "History teaches that laws crafted for such subjective purposes often have the effect of violating human rights and are often unsustainable within changing circumstances of life," he said, adding that the Chamber of Control has been given "extraordinary discretional authority" to enact the new legislation.
As for state resources, Kiai believes that they benefit one party at the expense of others.
The conference also addressed workers and violations of labour rights. "Labour unions operate in a very difficult labour environment. I am also concerned by the allegations of harassment and intimidation against workers who belong to, or have expressed sympathy [for] or desire to join, labour unions," Kiai noted.
He also mentioned the May 26, 2011 rally dispersal, saying that the "reaction of government was clearly disproportional," highlighting the "deliberate use of administrative detention and sentence up to 90 days without adequate procedural safeguards".
Kiai underlined that he has had meetings with government representatives who expressed a readiness for collaboration, and for taking his recommendations into consideration.
As Public Defender Giorgi Tughushi told
The Messenger
, the UN report was largely critical, but productive. "Mr. Kiai is collaborating with us... The main document, which is to be prepared by the rapporteur, is more significant for me [than the preliminary conference]," he said, adding that a report from his office is due at the end of March. Tughushi believes that Kiai's recommendations are very important and that Georgian authorities should take them into consideration, especially since they will be formally presented before the election.
The full report by Maina Kiai to the UN Human Rights Council will be completed in June.