Tbilisi to help those injured in cold weather
By Messenger Staff
Tuesday, February 14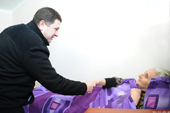 Tbilisi hospitals are working under an emergency regime. Thanks to ice and snow in the capital, the number of individuals seeking medical attention has increased. Mayor of Tbilisi, Gigi Ugulava, has initiated a program to cover the costs of medical treatment for all those injured on Tbilisi streets due to weather.
On Monday, Ugulava visited one hospital and met with patients who have been injured recently. Three of the patients are in critical condition, as they lack homes and their health problems have increased thanks to recent cold weather. According to City Hall, they will be able to stay in shelters throughout Tbilisi, and will be provided with a free hot meal.
Ugulava noted that the city is not out of the woods yet. "Unfortunately, frost and bad weather will continue, and low temperatures are expected in the capital in the next few days as well".