New logo kicks off 20-year anniversary of U.S.-Georgia relations
By Etuna Tsotniashvili
Wednesday, February 15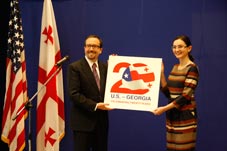 On February 14, U.S. Ambassador John Bass announced the winner of the logo contest dedicated to the 20th anniversary of relations between the United States and Georgia. Winning entrant, 21-year old Tamar Makharashvili from Gori, was presented with an iPad 2 at the U.S. Embassy in Tbilisi.
At the unveiling ceremony, Ambassador Bass thanked the winner and expressed his gratitude towards all those who took part in the contest. He added that it was difficult to select the winning logo, as there were approximately one hundred entries.
"Over 20 years we have built a strong, enduring relationship between the people of the United States and the people of Georgia. We will commemorate the 20-year anniversary with a series of events all throughout 2012. Because we have so many events, we decided to sponsor a competition amongst the future generation of Georgians, to create a logo that we will be using for all our events," the Ambassador told assembled journalists.
Makharashvili thanked the Ambassador and the embassy, saying she is very proud and happy to have won.
"My friends told me about this competition and I decided to try to design a logo for it. I have tried to create a simple but nice logo. I worked on it for four days. Here I show the number 20, for the 20-year anniversary, and the flags of both countries," Makharashvili told The Messenger.
Ambassador Bass also highlighted the importance of Georgian-American relations, and announced that events in honor of the anniversary will take place throughout the year; however, a full list has not yet been established.
The U.S. embassy announced the logo contest in November 2011, and Georgians aged 15-25 were eligible to take part. Overall, approximately 100 entries were received.
Twenty years have passed since the establishment of bilateral relations between the United States and Georgia. Next month is the anniversary of 20 years of formal relations, and in April a celebration will mark the opening of the American Embassy in Georgia.