Saakashvili visits Samtskhe-Javakheti
By Messenger Staff
Wednesday, February 15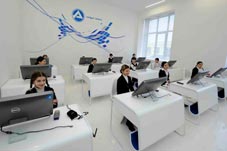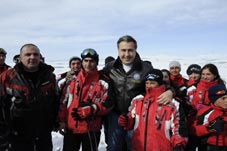 On February 13, President Mikheil Saakashvili visited Georgia's Samtskhe-Javakheti region. At the Akhaltsikhe public school, Saakashvili launched a "classroom of the future," while in Ninotsminda he opened a new police station.
The high-tech classroom contains an interactive "smart board" and special sensor monitors for each pupil. In this multi-functional classroom, all lessons are conducted with educational tools displayed on the electronic board, as well as on students' personal monitors. Teachers have the opportunity to monitor studentsí progress, assist them in case of need, and send personalized comments through the digital system. This is the fourth such "future classroom" in Georgia.
During his visit to the school, President Saakashvili spoke with pupils and teachers and inspected the new equipment.
The President also visited Akhalkalaki. Saakashvili arrived in the village of Aragva, where a newly constructed ski track was opened. The 300-metre-long track has a modern ropeway. In addition, he opened a ski school, equipped with a new inventory and capable of accepting 160 students, who will be trained by qualified instructors.
Saakashvili also opened a new police division in Ninotsminda, which will serve the entire region. He spoke with staff at the station, saying that the crime rate has decreased in Ninotsminda as a result of the good work of local law enforcement. Saakashvili also met with the local population and expressed interest in ongoing projects in the area.
The construction of the station was implemented within the scope of a Ministry of Internal Affairs infrastructure development program. The new building is almost entirely glass, equipped with modern technology, and employs 40 people.