Georgian Dream initiative group members announced
By Gvantsa Gabekhadze
Thursday, February 16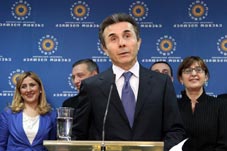 After months of speculation, Georgian billionaire and opposition leader Bidzina Ivanishvili announced the members of his Georgian Dream initiative group on Wednesday.
The group, which marks the debut of Georgian Dream as a formal political party, is made up of 18 individuals:
Archil Kbilashvili, lawyer and member of Ivanishvili's legal team;
Eliso Chapidze, long-time journalist who was previously Editor at Rezonansi;
Kakhi Kaladze, famous Georgian footballer;
Nugzar Davitashvili, professor of advanced physics and statistics at Ben Franklin Academy in Atlanta;
Giorgi Volski, Deputy Minister for Conflict Resolution Issues from 2004-2007;
Leri Khabelov, 1992 Olympic champion in free-style wrestling;
Manana Kobakhidze, human rights lawyer;
Guram Odisharia, writer;
Irakli Sesiashvili, head of Georgian Dream's defense and security working group;
Tedo Japaridze, ex-Minister of Foreign Affairs;
Nodar Khaduri, professor of economics at Tbilisi State University, and previously with Nino Burjanadze's party;
Ivane Kighuradze, academic;
Maia Panjikidze, Ivanishvili's spokesperson;
Zakaria Kutsnashvili, lawyer and member of Ivanishvili's legal team;
Irakli Gharibashvili, head of Ivanishvili's charitable organization;
Tamaz Avdaliani, lawyer and member of a Kurdish rights group;
Nineli Chankvetadze, actress; and
Giorgi Zhvania, brother of Georgia's late Prime Minister, Zurab Zhvania.
Although this announcement marks a leap forward for the political movement, there is one more barrier than stands in it way – the government's recent withdrawal of Ivanishvili's Georgian citizenship. Ivanishvili himself is confident that his citizenship will be restored, saying, "They manipulate with the law. This is Saakashvili's democracy, though despite his character and fantasy, there is a boundary to violations of the law. He won't manage to avoid returning [my] illegally-deprived citizenship. In such case, we have a plan that will lead us to results anyway". The plan he refers to, which will be enacted if his citizenship is not returned in time for the fall elections, is to install his wife Ekaterina Khvedelidze as head of the party.
The leadership of Georgian Dream intends to form a coalition with three other opposition parties to run in the October parliamentary elections as a joint electoral bloc. The coalition includes the Republican Party, led by Davit Usupashvili; Our Georgia-Free Democrats, led by Irakli Alasania; and the National Forum, led by Kakha Shartava.
Alasania believes that his party and Georgian Dream stand together on most issues, with the exception of Georgia's state arrangement. He maintains that this is not an issue for any party to decide, but that the Georgian people should make their choice in a referendum.
Members of the majority party, the United National Movement (UNM), forecast failure for the initiative group. According to UNM representative Davit Darchiashvili, those individuals assembled under the Georgian Dream banner are unlikely to draft any real policies or be able to follow through with them. "Ivanishvili's coming into the political arena created a threat to the development of a political class and those whom he 'stuck on' have already lost their individuality," he said. Fellow majority representative Goka Gabashvili could not see anyone but "worn faces" in Ivanishvili's group, remarking that they have "old fashioned ideas and intentions".
Analyst Ramaz Sakvarelizde believes that the Georgian public will react positively to the announced group members. He argues that the primarily responsibility of the initiative group will not be the "making of politics", but the creation of a party and its popularization in Georgian society. "What they might achieve, and be their actions effective or not, time will tell".