CDM criticizes lack of disabled access in Tbilisi
By Salome Modebadze
Thursday, February 16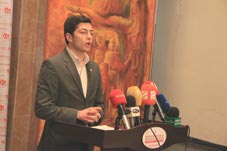 Zaza Gabunia, one of the leaders of the Christian-Democratic Movement, is speaking out about the problems faced by disabled persons in Tbilisi. Saying that there are over 10 000 people in wheelchairs in the capital, Gabunia worried that a lack of social infrastructure causes serious mobility and quality-of-life issues.
Speaking of the few services available to the disabled, Gabunia noted the lack of relevant transport infrastructure and architectural provisions, including buildings with wider entrances, lifts, or wheelchair ramps, which would ease movement around the city.
According to Gabunia, discussions at both Tbilisi City Hall and the Ministry of Labor, Health and Social Affairs have not been enough to solve these problems. "Nothing has really been done for people in need, except from conversations; no one cares to provide these people with special services," he said, citing as an example the newly rehabilitated Agmashenebeli Avenue, where the government neglected the interests of disabled people.
Even the installation of ramps would help handicapped persons enter buildings and navigate squares, but Gabunia believes that the lack of such infrastructure indicates how little their interests are taken into consideration by the government. He demanded that City Hall provide every administrative building with ramps, that municipal buses be equipped with lowering mechanisms, and Metro stations be made disability-friendly.
Gabunia also stressed the need to create a special state institution which would protect the rights of disabled people and adhere to international standards.
Bacho Dolidze, spokesperson for Tbilisi City Hall, denied Gabunia's accusations about the lack of relevant infrastructure at Agmashenebeli Avenue, and affirmed that the government is working on the above-mentioned issues. Dolidze cited the progress already made in this area, as over 40 buses in Tbilisi are already more accessible, and the introduction of buses with automatic lifts is being worked on.
Stressing that the people with disabilities are equal to any citizen and their socialization should be a top priority for any country, Dolidze mentioned a project aimed at easing the lifestyles of the disabled, which was announced last February. As Mamuka Katsarava, Head of Tbilisi City Hall Social Care and Culture Municipal Department then explained, a great amount of money was needed for successful implementation of all projects, but the government is well aware of the challenges faced by disabled persons in Tbilisi.