Shashkin meets U.S. House Speaker
By Lera Khubunaia
Friday, February 17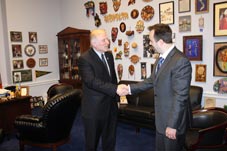 Georgia's Minister of Education and Science, Dimitri Shashkin, held a series of meetings at the United States Congress yesterday.
Shashkin met with John Boehner, current Speaker of the House of Representatives. They spoke primarily about the ongoing democratic reforms in Georgia, with the Congressman expressing interest in Georgia's education system.
Boehner called Georgia one of the leaders in its region with regard to democratic development and reform. He expressed hope that Georgia will continue to cooperate with the United States in the future.
The Speaker published details of the meeting on his official website, calling his talk with Shashkin "productive".
During his visit, the Minister met with other members of Congress, to discuss upcoming policy developments. After meeting Shashkin, Congressman Steve Chabot commented that the United States supports Georgian reforms and is looking forward to further collaboration.