Saakashvili announces electricity vouchers
By Ernest Petrosyan
Monday, February 20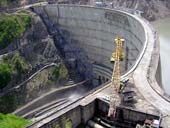 While visiting Batumi, Georgian President Mikheil Saakashvili announced a system of electricity vouchers to help Georgians suffering from unexpected electricity bills.
The policy was prompted by an unusually cold winter, and the unforeseen expenses that have plagued many Georgians as a result.
Saakashvili did not specify the value or issuance date of the vouchers. Similar programs were implemented last year, when the government issued 20 GEL electricity and 30 GEL grocery vouchers.
"I want to order the government to collect some means and release electricity vouchers this year too, since the population faced unpredicted problems. In my estimation, electricity consumption has increased by 20-30%; therefore we should compensate for it from the budget," he said.
Last year, electricity vouchers were accompanied by grocery vouchers, which together totaled over 31 million GEL in government assistance. Tbilisi City Hall also issued 5 GEL vouchers for public transportation use, after fare increases on marshrutka ("mini-bus") routes. The most recent national voucher was for agriculture, which amounted to 24 million GEL.
Many analysts consider it illogical to distribute vouchers to all families, rather than concentrate assistance on the socially vulnerable and internally displaced persons (IDPs).
Analyst David Narmania links the electricity vouchers to the upcoming parliamentary elections, as an attempt to win the hearts of the voting public.
"IDPs and socially vulnerable families need such privileges more. The existing charge should be reconsidered as to how adequate it in fact is. Such one-time events cannot be effective, thus the approach should be more complex...," he said.
Recently, the government announced that 15 hydropower plants will be built in Georgia. They are also considering building coal power plants, in the hopes of making Georgia an energy-exporting country.
Analyst David Ebralidze notes that the construction of hydropower plants requires a tremendous financial investment up front, which may mean that the energy the plants produce is more costly.
"The capital expenses which will be spent will influence [the cost to consumers]. On the one hand, it raises the price, which is not preferable. On the other hand, these power plants are [earmarked] for export production, and thus will not impact the electricity tariff inside the country," he noted.