Counter-amendments to political unions law proposed
By Gvantsa Gabekhadze
Monday, February 20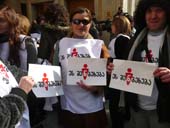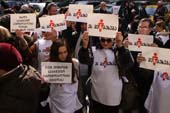 A group of NGOs, media outlets, and civil society representatives have demanded changes to the law on political unions, and appealed to Parliament with a legislative package of their own design.
Members of Georgian civil society delivered their proposal on Friday, alongside the slogan, "It Concerns You". The group hopes that their initiative with be discussed at least at the committee level, thanks to high public interest in the controversial amendments.
Changes to campaign finance law, adopted in December 2011, may limit property rights, freedom of expression and assembly, and potentially impose a liability on voters thanks to what critics call vaguely-worded legislation and a broad, unchecked mandate for the Chamber of Control.
According to the executive director of the Georgian Young Lawyers Association, Ekaterine Popkhadze, the counter-proposal will be discussed by the Parliament Bureau, then directed to a committee (potentially the Legal Committee), which either send it to Parliament for discussion or reject it outright. Journalist Ia Antadze has hope that the initiative "will be taken into consideration by Parliament".
Irakli Melashvili, an analyst from For the Free Choice, noted that change will not happen if Georgians are not alert and ready to fight. "Action is important [in order for] those people in Parliament to recognize that a large part of Georgian society demands changes in the legislation regarding elections".
The public should be more informed about changes to the law, chair of the NGO Fair Elections, Nino Lomjaria said. She noted that financial contributions to political causes should not be considered bribes( voter must not be punished for this ) . Her group is also planning a protest for February 20 in Batumi.
Majority representative Giorgi Kandelaki has yet to familiarizing himself with the group's proposal, so he says he is unsure if it will be the topic of parliamentary discussion. As for the Chair of Parliament's Legal Committee, Pavle Kublashvili, he says that the current law is in accordance with European Standards and it will be re-evaluated if its norms create problems in practice. "Such problems are not noted currently, thus there is no need for a re-evaluation," he stated.
Head of the Elections and Political Science Centre, Kakha Kakhishvili, told The Messenger that some cosmetic changes are possible with the law, but not substantial ones. "The result will depend only on action [protests]. A petition will not be the guarantee of some genuine change in the law, as changing the law on political unions means the defeat of the United National Movement," he said. Kakhiashvili also believes that some changes were made so as to cripple the political campaign of Georgian billionaire Bidzina Ivanishvili, saying, "Ivanishvili himself provoked them to make urgent changes to the law, as Ivanishvili had stated... which TV channels he was going to buy and so on".