Georgia, Turkey and Azerbaijan pledge to deepen economic ties
By Lera Khubunaia
Monday, February 20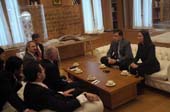 A meeting of the Georgian, Turkish, and Azeri economic ministers was held in Tbilisi on Thursday.
This meeting was a first for the three countries. In attendance were Georgian Minister of Economy and Sustainable Development Vera Kobalia, Turkish Minister of Economy Zafer Caglayan, and Azeri Minister of Economy, Shahin Mustafayen.
The Turkish and Azeri ministers were welcomed at the Radisson Blu Iveria by members of all three countries' business sectors. They discussed the magnitude of current business partnerships between their nations, with a goal of deepening economic ties.
Kobalia spoke of Turkey and Azerbaijan as Georgia's most important economic partners. "These three countries are an example for the rest of the world; European and Asian countries are talking about us as a [region] where investments should be made," she said. "Azerbaijan and Turkey want to be our partner both in terms of investment and commerce. Today's business forum will be the next step for strengthening our economic relations".
During the business forum, agreements were signed between industrial groups.
After the briefing, all three ministers met separately with Georgian President Mikheil Saakashvili, where they spoke about the challenges associated with current and future projects. As President Saakashvili noted during the meeting, Georgia, Turkey, and Azerbaijan play large roles in each other's economic development. According to him, such a relationship is an example for other regions.
"The teamwork of the Ministers of Economy of Azerbaijan, Turkey, and Georgia is good and successful. They are special partners for our country, and each of them has a special role in the development of all three countries," said Saakashvili. "Turkey is Georgia's main trading partner, whereas Azerbaijan is one of its most important investors".
The Turkish Minister thanked Saakashvili for aiding the rescue of Turkish sailors and for returning them home earlier this year, as well as the help Georgia provided after the deadly Van earthquake in 2011. Caglayan noted Georgian economic reforms, calling them successful, and confirming that Turkey is happy to continue helping Georgia's economy grow. "We pay attention, with great pleasure, to all the steps that Georgia made towards the development of [successful] economic conditions," he said.
The Azeri Minister, Mustafayev, spoke about the strategic cooperation and friendly relationship between the two countries. He believes that these two countries have more potential in terms of socio-economic cooperation than they realise, and so he hopes for greater collaboration in the future.
Other business forums between the three states are scheduled for May (in Turkey) and August (in Azerbaijan).