His Holiness and Beatitude Catholicos-Patriarch of All Georgia Ilia the Second Visits Israel
Monday, February 20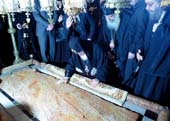 His Holiness and Beatitude Catholicos-Patriarch of All Georgia Ilia the Second departed for Israel on February 16. During his visit in Israel His Holiness will meet the Patriarch of Jerusalem Orthodox Church, Theopile II and visit Holy Christian sites.
While in Israeli, the Patriarch will have a meeting with President of the State of Israel Shimon Peres, the Chief Rabbi of Israel and other high dignitaries. Ilia II will be visiting the Israeli Parliament (The Knesset) as well as the Wailing Wall and the Holocaust Memorial Museum (Yad Vashem).
His holiness will also meet the Georgian Jewish community living in Israel.
(Embassy of Israel in Tbilisi)