Chamber of Control charges UNM, Georgian Dream with donation fraud
By Ernest Petrosyan
Tuesday, February 21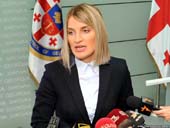 The Chamber of Control's financial monitoring service has made a controversial statement regarding the United National Movement's (UNM) annual financial declaration, and the charitable transactions of Bidzina Ivanishvili's Georgian Dream opposition movement.
According to the Chair of the Chamber, Natia Mogeladze, her organization has discovered illegal political funding schemes.
"The Chamber of Control believes that a contribution to the UNM account was carried out by several physical entities from one and the same organization. The Chamber of Control appeals to the National Movement to transfer the problematic sum of 95 848 GEL to the state budget," she affirmed.
The UNM disputed Mogeladze's findings, but has announced that it will transfer the amount in question.
"UNM presented the Chamber of Control with their 2011 financial declaration. Nonetheless we have a different opinion, [but] as a result of consultation we have decided to transfer the problematic sum to the state budget," announced Zurab Melikishvili, UNM MP and chair of the parliamentary budget committee.
As for Georgian Dream, Mogeladze reported that Ivanishvili's company, Cartumsheni, issued uncommonly high bonuses to its employees, a selection of which were transferred to Georgian Dream's account as charitable transactions.
"LTD Cartumsheni employee Nugzar Khutsishvili, whose salary amounted to 12 000 GEL in 2011 (1000 GEL monthly), received 40 000 GEL as a bonus on February 6... Equal to four [times] his salary. From which, three days later, 20 000 GEL had been transferred to Georgian Dream," Mogeladze said.
She asked that Georgian Dream return the money to Cartumsheni.
Georgian Dream's spokesperson, Maia Panjikidze, said that the organization will not comply with the Chamber's demands. She cites the civil code as well as the code of political unions, which state that Georgian citizens are eligible to transfer money or give any other assets as a donation to a civil organization.
Panjikidze also questioned why, thanks to the Cartumsheni transaction, Georgian Dream would have to be monitored by the Chamber.
At a press conference, Mogeladze explained that it is illegal to make political contributions on behalf of individuals who do not consent to the donation. Punishment involves the transfer of the amount in question to the state budget, with criminal charges laid against the perpetrator.
She added that the Chamber believes that some political movements are being financed with "dirty money", and that her organization's priority is to prevent such transactions. She asked that all private citizens abstain from participating in questionable donation situations, warning that sanctions will be applied in case of violations of campaign finance law.