Georgian Dream to become official party by April
By Lera Khubunaia
Tuesday, February 21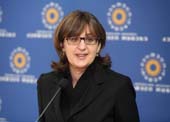 The official inauguration of opposition movement Georgian Dream as a registered political party will occur by early April, announced party spokesperson Maia Panjikidze on Monday.
She spoke at a briefing of Bidzina Ivanishvili's new political coaliation, at which a common declation was signed.
"Soon in Georgia there will be regional offices, and all the supporters – not only from Tbilisi but from the entire country – will be able to go and express their position and participate," said Panjikidze.
The previous week has been an important one for Georgian Dream. Ivanishvili announced the party's initiative group, which was well-received by the public.
During the press conference, Panjikidze also discussed the controversial amendments to the Law on Political Unions of Citizens.
"We thank non-governmental and different media organizations for applying for a petition at Tbilisi City Hall," announced Panjikidze. "I believe that we will see results by putting together our forces; it is very pleasant that many non-governmental and media organizations are partaking in this process."
Concerned Georgian citizens recently formed an organization called "ES SHEN GEKHEBA" [It Concerns You], and signed a petition in opposition to the new laws.