Saakashvili speaks to Georgian troops in Afghanistan
By Salome Modebadze
Tuesday, February 21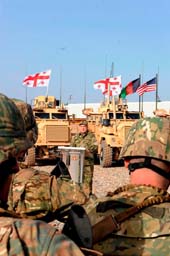 On Monday, Georgian President Mikheil Saakashvili visited Georgian troops in Afghanistan. Dressed in a military uniform, he addressed the soldiers at Combat Outpost Shukvani in the Helmand province, praising them for promoting Georgia's dignity.
According to Saakashvili, Georgians have heroism in their blood. He spoke of those Georgian officers who have served with many prominent armies worldwide, and emphasized the ISAF mission as the continuation of Georgian traditions.
Praising medieval Georgian villages on Afghan land, where Georgians are called Gurjis, the President said they were the bravest warriors against the Bolshevik army during the Russian invasion (1921).
Emphasizing that Georgian soldiers serving in Afghanistan are contributing to Georgia's welfare, he spoke of the times when Georgia lacked "state identity on the world map" and was "sacrificed for other countries."
Welcoming the soldiers for representing the armed forces of an independent Georgia, Saakashvili said they are strengthening their country by creating a stable foundation for Georgia's future. Their presence in Afghanistan "gives us unimaginable experience, which we will definitely need, unfortunately," he remarked.
"If we want to have a country we should have an army, and if we want to have an army we should be in Afghanistan – it's very simple; there is no other option," Saakashvili stated.
While in the United States earlier this month, Saakashvili met with Georgian commander Alexander Tugushi, who had been injured serving in the ISAF mission. The President honoured him for his "brave spirit." He also took the opportunity to thank the U.S. for their support, saying that the U.S. not only has allies in the Georgian government, but that the Georgian people are willing to fight together with the American people.
Defense Minister Bacho Akhalaia and State Minister for Euro-Atlantic Integration Issues Giorgi Baramidze accompanied President Saakashvili on his brief trip to Afghanistan.
Although Georgia has lost twelve of its soldiers since joining ISAF in November 2009, the government plans to send an additional infantry battalion to Afghanistan. Currently, 936 Georgian soldiers serve there. After the deployment of the additional battalion, Georgia will become the largest non-NATO contributor to the ISAF.