Georgian sailors in Sokhumi no closer to release
By Ernest Petrosyan
Wednesday, February 22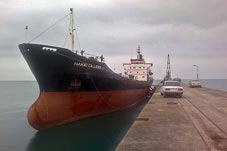 Trapped Georgian sailors on a Turkish-owned ship docked in Sokhumi are asking for immediate help. As one of the detained men, Giorgi Sapanadze, told Interpressnews, the ship is damaged and their lives are in danger.
"We informed everyone, the owner of the ship in Istanbul and [the Georgian] embassy. [Company spokeswoman] Laura Chaduneli also knows about it, however no one does anything. They say that on Saturday they will rescue us. It's impossible to repair the ship. No one who has seen the ship will come here. Nobody knows whether we'll survive till Monday", he reported.
According to Nino Tsetskhladze, a relative of sailor Sulkhan Tsertsvaladze, the ship may sink as water must be pumped from it every half hour. "Sulkhan writes that the ship is damaged and only one out of five pumps works. The ship will sink as soon as weather deteriorates or electricity shuts down. They don't have a boat to sail to the shore. The weather may worsen tomorrow or the day after tomorrow," she said.
Families of the sailors held a meeting at the Georgian embassy in Istanbul, but they claim it brought no results. "Representatives of our government told us yesterday that negotiations are underway, they will receive their arrears and they will be saved. The time that they will be [rescued] was set, but they lied to us, there have been no steps taken. I called our embassy in Turkey. The deputy consul told me that the ship owner is sitting in front of him and says that he has no money to give salaries and he would give papers that guarantee payment in a month. They have been drinking salty water for ten days and they have not even gotten 10 tetris of salary and it's not clear whether they will be taken from [the port] or not", Tsetskhladze says.
Deputy Minister of Foreign Affairs, Nino Kalandadze, announced on Monday that the Ministry is actively involved in releasing the sailors. "The Ministry is trying to quickly release the sailors by official or unofficial ways," she said.
The four Georgian sailors signed a six-month contract on February 21, 2011 with the Turkish company, whose ship sailed under a Panama flag into the claimed territorial waters of breakaway Abkhazia. According to the sailors, they have yet to receive their pay, and their passports have been confiscated.