Ankvab victim of failed assassination attempt outside Gudauta
By Ernest Petrosyan
Thursday, February 23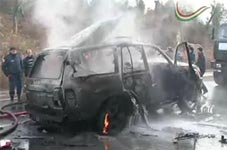 Alexander Ankvab, the leader of the breakaway Abkhaz state, survived an early-morning assassination attempt on February 22. According to Abkhaz news agency Apsnypress, Ankvab's convoy was attacked on the road between Gudauta and Sokhumi, killing two of his bodyguards.
A "powerful explosive device" went off at around 8:25am local time, outside the town of Gudauta, as Ankvab's convoy was en route to the capital, Sokhumi. Reports claim that after the explosion of a remote-controlled bomb, the convoy came under heavy fire from machine guns and grenade launchers.
One SUV in the Abkhaz leader's convoy, carrying his personal bodyguard, was hit by a grenade.
Apsnypress reports that after the attack, Ankvab arrived in his office in Sokhumi unharmed.
As Ankvab told The Associated Press in a telephone interview from Sokhumi, two of his bodyguards died of their injuries while a third one was wounded. "My car was badly damaged, but I'm feeling OK," he said.
According to Ankvab's press secretary, Christian Bezhania, the investigation has not revealed any Georgian involvement.
"We are considering various possible scenarios; however we do not see any Georgian involvement as yet. This terrorist act had been preparing carefully for a very long time. The machine gun firing points have been found," Bezhania reported.
Russian President Dmitry Medvedev, in a telephone conversation with Ankvab, offered Moscow's assistance in investigating the attack.
In a statement posted to its website, the Russian Foreign Ministry condemned the incident, calling it "an attempt to destabilize the situation in the republic ahead of the upcoming parliamentary elections".
"The course of Abkhazia's peaceful and progress-oriented development, carried out by President Ankvab, enjoys solid support in Russia. We are sure that attempts to derail [Abkhazia] from this path are doomed to failure," the statement concluded.
Georgian officials have accused Russia of being behind the attack. "Russia is responsible for all the [events] taking place in Abkhazia today," said Georgian Parliamentary Speaker David Bakradze, adding that according to international law, Russia is responsible for what has happened in the breakaway regions.
"I cannot tell you precisely the connection to the terrorist act, whether it is related to power-sharing or an expression of dissatisfaction from the occupying force, but anyway Russia, as the occupier, should be responsible for it," he remarked.
Political analyst Mamuka Areshidze believes that the assassination attempt was organized by internal criminal forces. "These forces are accustomed to sit 'on the golden vein', as the money transfer from Moscow is called. They have been accumulating these sums for years, and Ankvab decided to fight against them. These people are angry because of this, and are trying to restore their privileges," Areshidze says, adding that Russian officials are also involved in this business, as they dislike Ankvab's policies.
This is the fifth such attack on the Abkhaz president. However, no one has been charged or arrested, which Ankvab himself blames on "internal" Abkhaz forces, though he has declined to elaborate on his comments.