Three Georgian soldiers die in Afghanistan
By Ernest Petrosyan
Thursday, February 23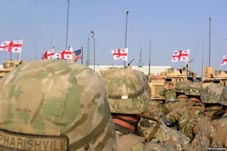 Three Georgian soldiers have died in Afghanistan.
The men, who served in the 31st light infantry battalion in Afghanistan's Helmand province, were killed in combat, according to the Georgian Defense Ministry.
Corporals Valiko Beraia, Ruslan Meladze, and Paata Kacharava died while carrying out a combat mission. "Their combat vehicle exploded following an insurgent attack," read a statement released by the Ministry.
As a result, the number of Georgian soldiers killed in Afghanistan has reached fifteen – all of them serving in the Helmand province, with four deaths already this year. The recent incident is the second deadliest, after an October 2010 mine explosion that killed four Georgian soldiers.
President Mikheil Saakashvili, who visited Georgian troops in Helmand on February 20, expressed deep condolences over the death of the three servicemen.
"Very sad news has come from Afghanistan. This is a great shock, as I was with the soldiers two days ago. I saw their great braveness and devotion with my eyes," Saakashvili said, adding that Georgia appreciates their sacrifice and future generations will further appreciate the devotion of Georgian soldiers in Afghanistan.
The Georgian President noted that the Taliban had planned to install an explosive device during his visit.
U.S. Ambassador to Georgia, John Bass, also expressed his condolences for the death of the soldiers. "The U.S. Embassy expresses deep concern over the loss. We are concerned just like you. We appreciate your devotion and continue to support you. This is a [sacrifice] that will never be forgotten," Bass said.
The 31st infantry battalion of the third infantry brigade is now in the Helmand province for its second six-month deployment, serving alongside U.S. marines. Deployed in April 2010, the battalion was the first Georgian military unit in Helmand; during its first tour, the battalion lost five soldiers
The government plans to send one additional infantry battalion to Afghanistan on top of the 936 Georgian soldiers already serving there. After the deployment of this battalion, Georgia will become the largest non-NATO contributor to the ISAF peacekeeping operation.